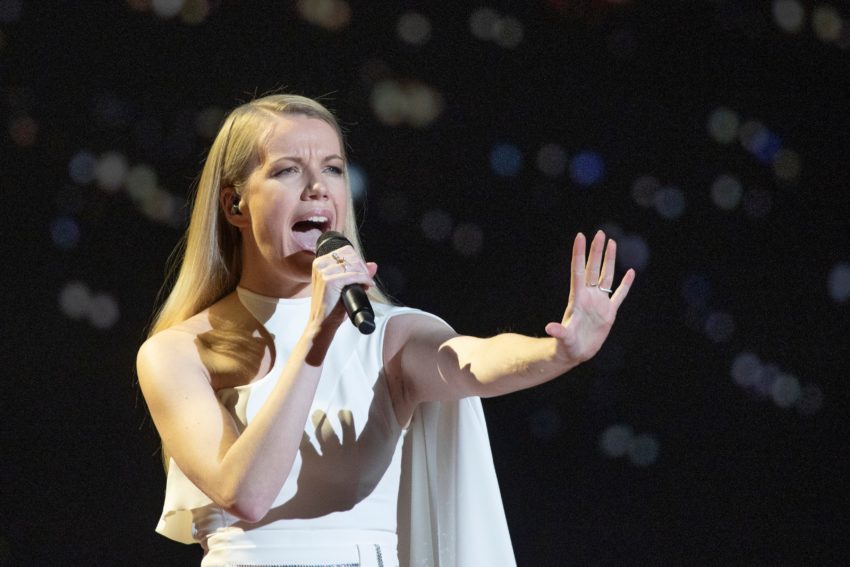 Ana Soklič represented Slovenia at the 2021 Eurovision Song Contest. The highly multi talented Slovenian artist released 'Naj Muzila Igra' in 2013.
Naj Muzila Igra can be considered as one of Ana's mid career works. The song, which is written by Janez Boncina Benc, was released in september 2013.
Compared to her two Eurovision entries from 2020 and 2021, this is milder. It's a jazz song, which shows the variety of Ana's vocal abilities. This might be a little soft for Eurovision fans but let's see what they think about it from themselves.
Naj muzika igra – opinions from fans
In order to find out what Eurovision fans think of this song from Ana Soklič, we asked our Eurovision Fan Panel. It includes team members as well as fans from all over the world.
🇩🇰 Charlotte J. – I love that intro. It's really, really great leaving me excited for what is to come. It reminds me of the Scandinavian late 70s and 80s songs, I love so much. Unfortunately, the song doesn't quite live up to that start. I was hoping for a bit more spice on the chorus. The song itself isn't bad, and I prefer this to her Eurovision entry. It's so nice to hear something more up-tempo from Ana Soklič. I would just have added a bit more to the chorus.
🇪🇸 Maria P. – For me, it's a quite boring song, though not so much as her Eurovision entries in 2020 and 2021. Maybe if the song was trimmed to 3 minutes it would be less dull, and with a good staging it could be a finalist, but the truth is that I doubt it. Ana has a powerful voice, and it's a pity that she is not singing great songs.
🇬🇧 Michael O. – Well this is as seventies disco as it gets, but I don't think this is Ana's usual style of song. As a seventies fan it's OK, but I prefer the instruments. This would have had a fine Philly style instrumental.
🇹🇷 Gunec G. – I love this sophisticated, soothing tune from Ana's marvellous voice. However, I don't think it'd do fine at Eurovision.
🇧🇦 🇷🇸 Miljan T. – This sounds like something to be played at a hotel terrace at the Adriatic Sea… in the background, while I eat. Not to disturb too much. It sounds like something Yugoslavian, straight out of 1975. The intro is way too long, and the whole song is just boring. Yugoslavian bland copy of American hotel music.
🇳🇱 🇩🇰 Wouter V. – I love the mellow sounds this song builds on. It has enough jazz to it to recognise it as such, but none of the weirdness jazz sometimes gets associated with. Mix that with just a bit of Balkan pop, and you get a really pleasant piece of music. I wouldn't call it the greatest piece of music ever performed, but good enough to make me curious for what else Ana has to offer. And of course a solid saxophone riff has never done any harm.
🇨🇿 Josef S. – This song is a little old-fashioned as most of Ana's song I know, but she is an excellent singer. Maybe only less mainstream than others. And that's probably why she did not succeed at Eurovision, but we saw at ESC many artists with the same destiny, but everyone cannot be the winner. I hope Ana will keep doing her own music and one day she will break through. I like for example her Bond-esque song Temni svet from the EP Voda from 2020. All hail the deep voice, please! 👍
🇮🇹 🇬🇧 Maurizio V. – Ana is a great singer, but she's not my cup of tea when it comes to music genre. I always find her quite bland and this song is no exception. I have to say, though, this is better than her Eurovision entry. I'm still questioning why it was called Amen.
🇩🇰 Tina M. – A slightly more jazz swing-influenced number that I actually have difficult to relating to. I'm not into either jazz or swing music, which to me seems boring and soulless, but this song does have something indefinable. I can't quite figure out what is, but there is something in this song that I like. Ana's voice fits the song very well.
Enjoy Ana's Naj Muzika Igra in the embedded video. Below the video, you can read more about her.
Ana Soklič

– a mini biography
Ana Soklič was born on the 10th of April 1984 in Savica, Slovenia. She began her professional musical career at the age of 20 with her debut single If You. She has released a few singles until today. She was a participant in the first season of X-Factor Slovenia in 2012 and finished in 5th place.
On the 20th of December 2019, she was announced among the participants of EMA 2020 which she eventually won with her song Voda. Unfortunately, when 2020 edition of Eurovision Song Contest was cancelled due to the pandemic, she couldn't make it to Rotterdam. Happily enough, she was internally selected as the Slovenian representative for Eurovision Song Contest 2021. She presented her participant song Amen on a special show on the 27th of February 2021.
In Rotterdam, she took the stage second in line in the first semi-final and received 44 points which brought her the 13th place thus she didn't qualify to the grand final.