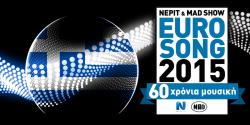 The Greek final will take place on the 4th of March in "Enastron" music hall. The Greeks will decide between five young artists about who will be the one to represent them in Vienna. Three females, one male singer and one band are in the running to be the next represantative of Greece who wants to return to top 10 after last year's failure.
Eurosong is the 3rd edition of the show through which Greece will select their artist for the Eurovision Song Contest. NERIT officially confirmed on the 14th of January that it would collaborate with the private music channel MAD TV to take on the organization and production of a national final as they have done in the two previous years.
The hosts of the show will be Ntoretta Papadimitriou (actress) and Mary Sinatsaki (journalist and tv presenter). The competing artists were revealed on 17th of February with the full songs released on the 26th of February.
Greece will decide with 50% jury and 50% televoting. The names of the jury haven't been announced yet.
Let's take a closer look at the five Greeks hopefuls: 
C Real with Crash and Burn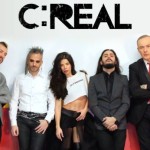 The group was created in 1996 by composer, lyricist, and producer Takis Damaschis. Their first single was released a little after the creation of group and was titled A New Religion. One year later in 1997, they released their second single titled Visions of You featuring Sarah Jane Morris. The single was released in 30 countries, which was considered a world success for the fairly new group. In June 1997, C:Real released their debut album titled Realtime. The have released until now more than 10 singles and albums and they are one of the most successfull pop groups in Greece with sucess abroad. In November 2010, a message on the groups Facebook fan page by founder Takis Damashis announced that lead vocalist Irini Douka has decided to leave the band, choosing to embark on a solo career instead. Damashis stated that Irini is a big part of C Real's history, and deserves respect. Furthermore, Damashis stated that if they choose to stay together, they will pick a new lead singer that has a totally different voice and look than Irini. He elaborated that the group would have a totally different image and sound, and would not be a bad copy of their former version. At moment Georgia Lazopoulou is the lead singer of the group who has taken on a more rock stlyle in their songs.
Thomai Apergi with Jazz and Sirtaki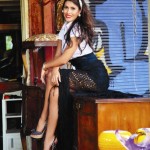 Her distinctive voice and her musical influences lead her to the exploration of smooth jazz, dance bossa nova, downtempo electronica, funk, soul and jazz music, while the songs she chose to sing the past years inspire her audience with a sensational movement accompanied by a saxophone and a piano. A spicy touch in her appearances is the nights she spent singing manouche and gypsy swing, with her band Night & Day. Apergi made an impact after releasing her first song, written by two exceptional international composers in two different versions. The English version What's Your Name and the Greek version titled Mia Vradia (One Night) were released by Panik Records and immediately attracted the interest towards this exotic, new artist. Both versions create a designated feeling for seduction and dance, with the Spanish Guitar accompanying her distinctive voice with a summery note. Her second, recently released, single is solely influenced by soul – funk influences, taking us away with its rhythm and her unique voice, You Keep Me Rolling. A lively song with a funky character and exclusive instrumentation. Apergi participated in Eurosong 2013 – a MAD show, the national final which selected the Greek entry for the Eurovision Song Contest 2013. Her song, One Last Kiss, was one of the favourites to win. However she did not manage to live up to the expectations and came third out of four participants.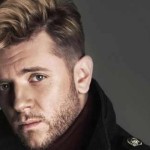 Barrice Sobolev (born 5 December 1993) known as Barrice, is a Greek singer, songwriter and producer of Russian origin. He immigrated with his family to Greece when he was young. He got involved with the music in a young age since his mother was a music teacher. Barrice moved with his family to Athens and he started working as a disc jockey. Passing to the Marketing & Communication department in the University of Athens, Barrice made his first steps singing and writing songs. Barrice made his debut when he was chosen to be the act of the Positive Group Vegas, in Amita Motion and then he released his first single Na souna edo. However, he has made many covers of known English and Greek songs like Don't by Ed Sheeran, Eleges by Melisses.
Shaya Hansen with Sunshine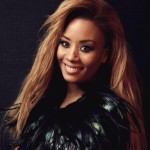 Shaya was born in Denmark to a Danish father and a multiracial Guyanese mother of Greenlandic and Indian descent. Her family moved to Sweden after her parents' divorce when she was 6. At the age of 12, Shaya and her family immigrated once more, settling in Thessaloniki, Greece. Her mother was a disc jockey before Shaya's birth. Although Shaya enjoyed singing and dancing from a young age, including performing with SambaSchools in Copenhagen Carnival, she became interested in becoming a singer when she was persuaded to get on stage to sing a song with co-workers after work at a club she worked at in Kavala around age 18. In 2001, Shaya released her first solo single titled Release Me and promoted it around Europe. Following the encouragement of a friend, in 2003 Shaya entered the Greek version of the talent show Popstars and won a spot in the girl band Hi-5. Shaya, along with the four other girls had two chart-topping albums and eight singles in two years. After Hi-5 split up in 2005, Shaya began a solo career, appearing live in various venues. In 2008, Shaya and Greek singer Kostas Martakis were chosen to record a Greek-language version of the soundtrack of the Disney film High School Musical 3: Senior Year. In 2009, Shaya teamed up with Greek hip-hop group Stavento to release the duet Prin Se Gnoriso (Before I Meet You), which earned them a nomination and win for Best Video-Clip Hip-Hop at the 2009 MAD Video Music Awards. During summer 2014 Shaya toured around Greece performing together with other artists. She also visited Denmark to record some songs for her coming solo album, and had two performances at the week-long festival Køge Festuge close to Copenhagen. She has submitted songs to the Danish selection, Melodi Grand Prix, which hasn't been chosen however.
Maria Elena Kiriakou with One Last Breath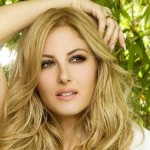 Maria Elena Kiriakou was born on 11 January 1984 in Larnaca, Cyprus and has lived there since then. At the age of 13, her mother registered her at a music school. Years later, she studied philosophy at the University of Ioannina and during the first year she got a proposition from Giannis Ploutarchos which she did not accept as she preferred to concentrate on her studies. After 2 years at the University of Ioannina she decided to move back to her home country. She then continued her studies in the University of Cyprus. After her graduation she opened her own tutorial class. Maria Elena appeared on the third of the eight blind auditions of The Voice of Greece, she auditioned with Because of You originally by Kelly Clarkson with all four coaches electing for her to join their teams, from which she selected Despina Vandi. Maria Elena won the whole show and had a record deal with Universal Music Greece. Her song Dio Egoismoi that she sang in the competition was available on iTunes on 3rd of May 2014.