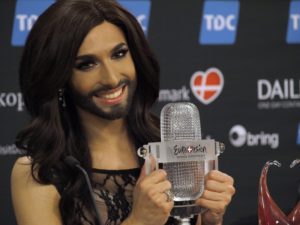 The capital of Spain will celebrate during the first days of July the Pride Week. This is one of the major events of the year in Madrid and, as usual, will feature several parties and open air concerts in different performing stages in the centre of the city with former Eurovision stars taking part.
From the 2nd to the 6th of July several activities will be held in the heart of Madrid's downtown to celebrate the Pride Week and, just like every year, it will be a very eventful week with several outdoor concerts and other activities for all kind of audiences.
The opening speech will be held on the 2nd of July in Chueca square and, the next day, Callao square will be the scene where a large number of artists related to the Eurovision Song Contest will perform. A concert will be held at 20:00 which will feature the performances of some artists who have participated at the Spanish national selection in the past, among others. They are Paco Arrojo (2007), Salva Ortega (2009), Melody (2009), Javi Mota (2010), José Galisteo (2010) and Alba Lucía (2011).
On Friday July 4th, the concerts will be spread over several spaces. In Chueca square will sing Lucía Pérez, the 2011 Spanish representative and, at the same time, in Callao square will perform Rebeca (who has tried to represent Spain at the Eurovision Song Contest four times, in 2006, 2007, 2009 and 2010 and was one of the lyricists of D'Nash entry I Love You Mi Vida), Alazán (2011) and Karina, who represented Spain in 1971 with the song Un Mundo Nuevo achieving the second place.
Meanwhile, Vicente Calderón Stadium will host one of the biggest events of the week: the Shangay Pride. It will be a unique live concert to celebrate the 20th anniversary of Shangay magazine with more than eight hours of live music. Conchita Wurst, the Austrian winner of the 2014 Eurovision Song Contest, is one of the guest stars whose attendance has been confirmed but, among the artists, there will also be plenty of former Eurovision Spanish representatives such as Azúcar Moreno (1990), Rosa (2002), Soraya (2009), Pastora Soler (2012) or Ruth Lorenzo (2014) and also the Spanish duo that represented Luxembourg in 1978, Baccara.
And, to top it off, on Saturday, among the artists who will be performing in Callao square will be Javi Soleil, one of the members of the boyband D'Nash who represented Spain in 2007, and Ainhoa Cantalapiedra (who participated at the national selection in 2011).
You might also like to read: