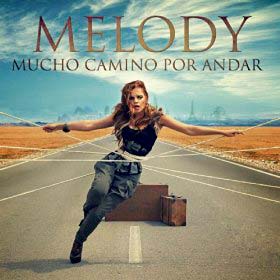 Melody was runner up in the 2009 Spanish national selection with Amante de la luna. For the summer of 2014 she returns with a release of her brand new album. It is entitled Mucho Camino Por Andar and features 11 new songs.

Melody was born in 1990 and has already sold over 10 million albums worldwide. She was a child star and released her first album, self titled Melody, in 2000. The lead single  El Baile Del Gorila (Gorilla Dance) was a massive hit in Spain and Latin America. She built on her success and released regular singles and albums. In 2008 she made a more mature album and was involved in the songwriting herself. That album was called Los Buenos Días.
In 2009 Melody took part in the Spanish Eurovision national selection with her ethnic sounding Amante de la luna. She narrowly missed out on representing her country where she finished in second place to Soraya and La Noche Es Para Mi.
In 2013 Melody came back with a single called No Sé with DJ Pana which was a big hit in Latin America. Now in 2014 Melody releases her latest album, Mucho Camino Por Andar. It features 11 brand new songs again shows a mature style to her music.
The 11 featured tracks are –
01. Pensaba que era yo
02. No entiendo
03. Gritaré
04. Tú no sabes quererme
05. Mi nombre está en tu piel
06. Cuánto me cuesta
07. Ten cuidaíto
08. Mucho camino por andar
09. Escrito en la pared
10. Lo que llevamos dentro
11. Hoy me voy 

You can see a teaser video for the release of Melody's album below. You can buy the CD at her official website and download the album at iTunes and other popular digital websites. 
You may also like to read –