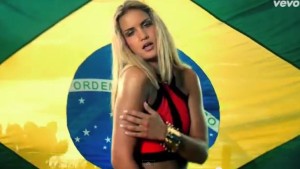 Adelén took to the stage and blew both viewers and fans away with her second placed Bombo in the Norwegian Melodi Grand Prix in 2013. Now she's back with ther latest single Olé, and is in pretty exclusive company on a new compilation album.
Aged only sixteen, Adelén took to the stage and gave a sultry performance of her Meditteranean disco stomper Bombo, narrowly missing out on representing Norway at the 2013 Eurovision Song Contest in Malmö. Margaret Berger took the ticket instead, but Adelén went on to score a huge hit with her national final entry, and even enjoyed success outside of her native Norway, with Bombo going top ten in Finland and even breaking the top forty in both Sweden and Denmark. Bombo even went on to give Norway it's third victory in the 2013 OGAE Second Chance Contest, the first since 1993.
Subsequent single releases Baila Conmigo and Always on My Mind haven't quite set the charts alight in the same way, but all that is hopefully set to change with the release of her newest single, Olé. Written by the same team behind Bombo, Olé features on the album One Love, One Rhythm – The 2014 FIFA World Cup Official Album. She is certainly in good company on the album, as it also features tracks from global superstars such as Shakira, Sergio Mendes, Santana, Wyclef Jean, Jennifer Lopez and Ricky Martin. 
The filming of the official music video took Adelén to the favela, the slum area of Rio de Janeiro, a far cry from the 17 year old's childhood hometown of Horten. The trip to Brazil made a lasting impression on the youngster, not only because of the poverty she witnessed, but because of the joy, the colour and the energy she got to experience, something Brazil is renowned for. Hot producer Ray Kay shot the music video with Adelén and chose to give it a clear brasilian flavour, incorporating elements such as the beach, rhythms, dance, colour and of course football into the mix. The end result was finished recently and released yesterday. Some of you may recognize elements of the song: a sample of the Bananarama hit Na Na Hey Hey Kiss Him Goodbye has been used to great effect.
Adelén spoke to the media of her experiences in Brazil, stating that "Seeing for yourself the conditions people live amongst in the slum areas really makes you reflect over the great injustices and inequalities in the world. However, meeting so much openness, colour and amazing people made this one of the best trips of my life." The results of her trip to Rio de Janeiro can be seen in the official video below while you're counting down the weeks for the Football World Cup to get underway. 
You might also like to read: