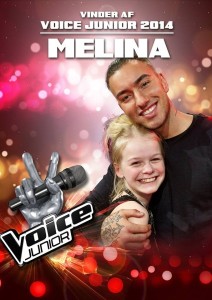 13 year old Melina just won Voice Junior in Denmark. She is the granddaugther of former Eurovision participant, Ulla Pia who was the last to represent Denmark just before a 12 years absense from the contest. Ulla became a household name in Denmark – and now her granddaugther is well on the way.

Ulla Pia sang Stop Mens Legen Er God (Stop while the game is fun), at the Eurovision Song Contest, and that was exactly what the broadcaster, DR, did – stopped while it was still fun. Denmark didn't return to the contest before in 1978, but Ulla became a household name in Denmark with big hits like Flower Power Tøj and Karina.
This evening the Danes saw her granddaugther Melina win Voice Junior with singer Joey Moe as her coach. Melina is 13 year old and she tells that she grew up with her grandmother and music as a big part of her life: "My grandmother picked me up in kindergarden almost every day and then we would be singing all the time". In the TV programme tonight she added that her grandmother was proud of her. 
Melina has now won a travelvoucher of 50.000 dkk together with the honour of winning the first edition of Voice Junior in Denmark. She is still in school, but later she would like to continue with music in some kind of way: "I would like to be able to live by my singing, or have it as a big hobby, but that will have to come later". 
Below you can first see one of Melina's performances from Voice Junior and afterwards her grandmother Ulla Pia's Eurovision performance.