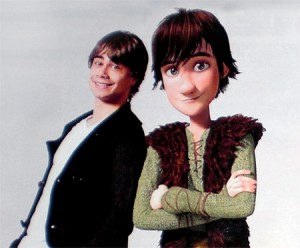 Former Eurovision winner Alexander Rybak's dream came true upon winning for Norway in 2009. He is presently working on an entirely new fairytale, in the form of an animated film, How To Train Your Dragon 2, due for release on the 4th of July.
Since winning the 2009 Eurovision Song Contest with Fairytale, the talented young artist Alexander Rybak has also landed roles in three films. A year after his triumph in Moscow, Rybak starred in the film Yohan: The Child Wanderer, where he played the character Levi. He also lent his voice to the character Hiccup in the Norwegian dubbed version of the Dreamworks animated movie How To Train Your Dragon, the same year. His talents were noticed, as he also got to create the voice of the character Mumin in the animated film Mumintrollet – Kometen Kommer.
The main character Hiccup bears more than a passing resemblance to the boyish faced artist, and so it comes as no surprise that Dreamworks enlisted the talents of Rybak a second time, providing the voice of Hiccup in the sequel, How To Train Your Dragon 2, due for release later this summer. Lending his voice to the film has provided Rybak with an unexpected opportunity to reach out to an even wider audience with his music.
Rybak had completed recording his latest song Into a Fantasy and approached the CEO of 20th Century Fox Norway, Tore Fredrik Dreyer with the track. Dreyer was extremely impressed with Rybak's work and Rybak wondered whether or not the song would be suitable for the tale of the young Viking teenager named Hiccup. Both thought the boat might have sailed for the song, but Dreamworks Animation though the song was so good that they decided they had to use it in the latest blockbuster from the same team behind the likes of Lilo & Stitch.
Audiences will therefore be able to hear Into a Fantasy during the closing credits of the film in Scandinavia, Russia as well as a host of other European countries. Young Rybak is currently filming a music video for the song, on location in Stad, Western Norway. The film How To Train Your Dragon was a huge hit and was also very well received by critics, so things are looking very promising for the sequel. "It was sheer luck that I'm surrounded by good people who believe in me" he told media, so perhaps the release of the latest Dreamworks project will provide Alexander Rybak with Fairytale II the sequel?  
You might also like to read: