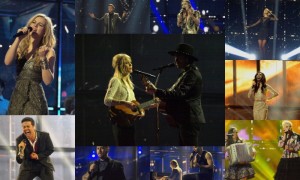 Together with Emmelie de Forest' themesong, Rainmaker, a total of nine entries from the newly held 2014 edition of the Eurovision Song Contest have made it onto the Danish single top 40. The highest placed one is the country that got the 12 points from the Danish TV viewers, ahead of Sweden.
The 2014 Eurovision Song Contest was a TV sucess in Denmark with a marketshare of impressive 89%. It is also a sucess with the single buyers as nine of the entries made onto the country's single top 40, where also Emmelie de Forest's Rainmaker, the official themesong for the contest, is to be found.
Denmark gave 12 points to Sweden and 10 to the Netherlands, but the split result reveals that it was due to jury voting as the televoters alone prefered the Dutch entry. Those televoters are also the main majority of the single buyers, and as such it is quite matching to see the The Common Linnets' Calm After The Storm as the best placed of the Eurovision entries on the single top 40 (In Denmark refered to as Track Top 40).
Eurovision 2014 on the Danish single top 40:
#2. The Common Linnets – Calm After The Storm (The Netherlands)
#3. Basim – Cliche Love Song (Denmark)
#5. Sanna Nielsen – Undo (Sweden)
#6. Conchita Wurst – Rise Like A Phoenix (Austria)
#7. Emmelie de Forest – Rainmaker (Official themesong)
#21. Aram MP3 – Not Alone (Armenia)
#28. Carl Espen – Silent Storm (Norway)
#37. Molly – Children Of The Universe (United Kingdom)
#39. Elaiza – Is It Right? (Germany)
#40. Andras Kallay-Saunders – Running (Hungary)
The official album including all 37 participating songs is a top seller as well. With a total of four weeks on the charts, it is this week's #1 on the Compilation Album top 10. On the same list we also find the compilation CD Dansk Melodi Grand Prix 1957 – 2012, which has re-entered the charts.
Strangely enough the official CD for the 2014 Danish final is not to be found on compilations, but instead as a regular album. No matter where, it however never left the list. With a total of 10 weeks on the Album top 40, it is now to be found at #30. 
You might also like to read:
Below you can see The Common Linnets perform their entry Calm After The Storm at the 2014 Eurovision Song Contest: