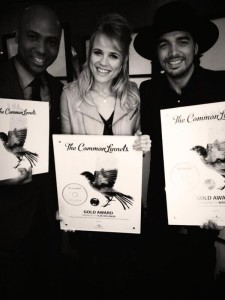 Their entry was heavily critisized in the Netherlands when it was released. After the duo came second in this year's Eurovision Song Contest all critic has disappeared and the Common Linnets are seen as national heroes. As they returned home from Copenhagen their album had sold to gold status.
Not many in the Netherlands believed in any success at the 2014 Eurovision Song Contest when Calm After The Storm was released. Media personalities stood in queue to critisize the song which they doubt would even make it to the final. EuroVisionary's Danish journalist was met with several Dutch wondering if she really meant it or was just being nice when she on Dutch TV a couple of months ago predicted a top placement for the Netherlands this year. She meant it, and after the first semi-final where the bookmakers started to believe in the song, things changed as more and more talked about the Netherlands as a serious top contender.
The Common Linnets returned home to the Netherlands with a second place. They were welcomed as heroes and soon after their return they receieved their gold records as documentation for their album having sold 25.000 copies. Their single is currently topping the Dutch single top 100, and on Saturday when the chart is updated it will most likely be at the first position of the album chart as well.
Below you can see one of our recording of Calm After The Storm from the 2014 Eurovision Song Contest: