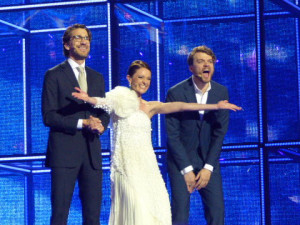 Today the viewing figures for the Eurovision Song Contest were published in host country Denmark showing a fantastic market share of 89%. The viewing figures are the highest in many years, but still doesn't beat the numbers from when Denmark last hosted, back in 2001.
The final of the 2014 Eurovision Song Contest was shown on three DR channels, and with a combined number of viewers at nearly 2,4 million, it is equal to a market share of 89%. Quite impressive numbers, and it is also the best we have seen from Denmark since 2001 where the country last hosted the contest.
On the viewers rating list between 1 and 5, with the latter being the best, the final scored a combined 4,1. 
The first semi-final was in Denmark seen by 905.000 while the second one was seen by 988.000. DR's warm up programme starting 2 hours before the final was seen by 929.000.
During the weeks up until the contest various documentaries behind the scenes of the 2014 Eurovision Song Contest was shown on DR, as well as regular TV programmes made special Eurovision editions. All of those have been well recieved among the TV viewers as well. 
Viewing figures for the Eurovision Song Contest final:
2014: 2,397.000 (Denmark hosted the Eurovision Song Contest)

2013: 1,704.000 (Denmark won the Eurovision Song Contest)
2012: 990.000
2011: 1,587.000
2010: 1,658.000
2009: 1,450.000
2008: 985.000
2007: 487,000 (Denmark didn't qualify for the final)
2006: 1,700.000
2005: 1,394.000
2004: 582.000 (Denmark didn't qualify for the final)
2003: 1,159.000 (Denmark didn't participate that year)
2002: 2,080.000
2001: 2,667.000 (Denmark hosted the Eurovision Song Contest)
2000: 1,407.000 (Denmark won the Eurovision Song Contest)
Austria's Conchita Wurst won the 2014 Eurovision Song Contest with the song Rise Like A Phoenix. That song you can see in the video below: