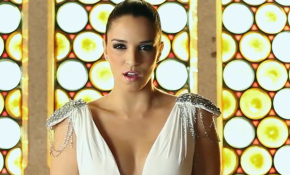 Catarina Pereira was a big favourite with fans and viewers at the 2014 Festival da Canção in Portugal where she finished in second place. Now she has released the official video clip of her song, Mea Culpa, in an English language version. The song is now set to be a big summer hit.
Catarina Pereira is a popular singer, actress and dancer in Portugal. She is also studying musical theatre in the United Kingdom. She first came to the spotlight in 2010 when she participated in the Festival da Canção with Canta Por Mim composed by Andrej Babić and Carlos Coelho. Despite being a favourite with tele viewers and fans Catarina finished in second place.
Catarina returned in 2014 to Festival da Canção with Mea Culpa again composed by the team of Andrej Babic and Carlos Coelho. This was also a big fan and viewer favourite but once again she finished in the silver medal position and runner up to Suzy with Quero Ser Tua.
Catarina has now released the official video for Mea Culpa with the English version. The video is directed by Bruno Moreira. The executive producer is Carlos Coelho and Carmen Pereira and produced by Filtro. The director of photography is Luis Cunha. The hairstylist is Marco Santos (Upgrade Productions) and the choreography is by Augusto Goncalves.
Appearing in the video with Catarina are Emanuel Santos and Gil Neto and the dancers are Augusto Goncalves, Catarina Leigo and Dayani Altuve. There are special thanks to Marisa Guimaraes, Jordann Santos, Camara Municipal de Matosinhos, Casa Museu Quinta de Santiago, Joao Pereira, Bruno Brini and Nuno Ferreira.
Mea Culpa has all the potential to be a big summer hit on the dance floors and beaches around Europe. Maybe also next time will be third time lucky for Catarina at Festival da Canção?
You can see the official video for Mea Culpa below.

You may also like to read: