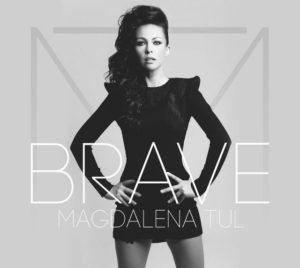 Magdalena Tul represented Poland at the 2011 Eurovision Song Contest with the song, Jestem. She has just released her brand new album entitled Brave. There are 10 tracks on the album and they are mostly composed by Magdalena herself.
Magdalena Tul was born in 1980 in the Polish city of Gdańsk. She is a singer and songwriter and also an actress. Infact, she has performed in musical theatre productions of famous musicals such as Miss Saigon, Grease and Cats. Her first album release was in 2007 called VOH – Victory Of Heart.
In 2011 Magdalena was selected to represent Poland at the Eurovision Song Contest in Germany with the upbeat dance song, Jestem. Unfortunately, she did not make it to the final but Magdalena impressed many people with her performance and energy on the stage.
Magdalena submitted a song for the Swiss Eurovision selection in 2012 called Give It Up but it did not make it to the grand final. She also took part in the The Voice of Poland competition in 2013.
Magdalena returns in 2014 with a new album release. It is called Brave and consists of 10 new songs. The material is a variety of styles and shows a mature feel to the album.
You can see Magdalena perform Jestem below filmed by EuroVisionary and you can see more videos from Eurovision our You Tube site.
You may also like to read –