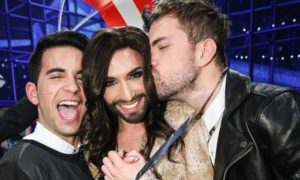 Despite reaching the final, Greece only managed 20th place in this year's Eurovision Grand Final. Almost a month after the event, Freaky Fortune and RiskyKidd, remain upbeat about their experience and complimentary towards Eurovision 2014 winner, Conchita Wurst.
When asked recently whether they would change anything about their Eurovision experience, the Greek representatives exclaimed: 'Absolutely nothing. As soon as we arrived at Athens Airport, we were saying that we would do it all over again straightaway. We are grateful for everything'. Freaky Fortune and RiskyKidd only had good things to say about this year's Eurovision winner: 'Conchita had a very dynamic presence, both on and off the stage. Her song was very good, as well as her voice. She had the whole package together with a very intense and strong personality.'

During another interview with Greek weekly magazine Ego, Freaky Fortune's lead singer, Nikolas Raptakis, commented on the result of the Greek entry. Nikolas said that, despite the fact that the people's expectations about their song, Rise Up, were high, he and his colleagues remained grounded: 'we knew from the beginning that this would be a difficult year for Greece because many countries that traditionally support us where absent.' RiskyKidd, whose father is German and mother is Jamaican, explained how come he lives in Greece at a time when most young people are leaving the country due to the economic crisis: 'Since I was thirteen, I had been travelling in order to see where I would (like to) settle. I (first) came to Greece because my dad is living here (…) Immediately, I realised that I like the country and its people.'

The interview also touched on more sensitive issues. RiksyKidd revealed that he had faced discrimination, especially when younger, but that he always managed to make friends through basketball and music. 'Now that I am older, I let other people to get to know me. The colour of our skin or descent should not be the criteria for a person to be judged upon', remarked the young rapper. This year's Eurovision winner, Austria's Conchita Wurst, is a good example of perseverance against discrimination. As Nikolas remarked: Conchita 'sent a big message across Europe.'
You might also want to read:
You can watch Freaky Fortune feat. RiskyKidd performing Rise Up during their dress rehearsal for the Grand Final of Eurovision 2014 in the following video.