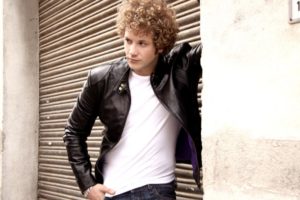 Quiero is the title of the new album from Daniel Diges. The album features ten unreleased tracks, half of them written by Daniel himself and the other half by great authors. It has been self-produced which has given the artist more freedom in choosing the songs.
Daniel Diges represented Spain at the 2010 Eurovision Song Contest and finished fifteenth in the final with his song Algo Pequeñito (Something Tiny). After his latest album which was consisted of cover versions it is finally time to listen to an album from Daniel Diges, that is composed entirely of unreleased songs. His followers will appreciate being able to hear some fresh content but especially this superb selection of ballads and mid-tempo songs which are tailored to his voice.
Daniel says that Quiero is the album he always wanted to do, and if he has been able to do so is just because he has produced the album himself, having had the help of a major label only for the distribution.
The album will be officially premiered next month in the Calderón Theatre in Madrid where there are four concerts scheduled to take place on the 16th, 17th, 22nd and 24th of June. In this concerts he will sing live for the first time some of the songs from his new album, but he will also perform a medley of songs from the different musical shows he has been working throughout his career and also some of the songs he performed at the tv show Your Face Sounds Familiar where he impersonated some of the most recognizable worldwide artists.
Besides working hard in the promotion of this new album travelling throughout Spain, he is at the same time playing the leading role in the musical show Hoy No Me Puedo Levantar.
The full track listing of Quiero is as follows:
01. Te llevas mi amor
02. Vienes y te vas
03. Ahora eres tú
04. Nuestros mejores sueños
05. Quiero
06. Cuando se va
07. Cómplices
08. Quién como yo
09. Me falta oxígeno
10. Mi pequeño compañero
The single of the album is a ballad called Te Llevas Mi Amor. You can watch the official videoclip below where you will also find the link to purchase the album.
You might also like to read: