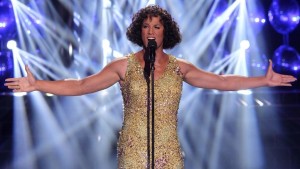 Monday evening saw the second edition of the popular celebrities musical show called Tu Cara Me Suena (Your Face Sounds Familiar). Daniel Diges was the first one who had to imitate a singer of the opposite sex and, despite the challenge was huge, he left the judges dazzled with his performance.
Daniel Diges is one of the contestants of this television show alongside seven other celebrities with diverse artistic backgrounds who take on the challenge of transforming themselves into a different iconic singer every week and they have to sing and dance in order to impress both the audience and the judges. Among them there are singers such as Ángeles Muñoz, Javier Herrero, María del Monte and Roko; television presenters such as Anna Simón or Arturo Valls; and the filmmaker Santiago Segura. Every week their challenge is assigned randomly and a team of coaches and stylists helps them to prepare their live performance.
The first show gave us some unforgettable moments and from the very beginning there were several references to the Eurovision Song Contest, the first surprise of the night being the performance of the four jury members who appeared on stage dressed like the Swedish group ABBA and singing Waterloo, the winning song from 1974.
These jury members are Àngel Llàcer (well known for being one of the teachers at the academy of Operación Triunfo, the talent show which served as national selection for the Eurovision Song Contest from 2002 to 2004), Carlos Latre, Carolina Cerezuela and Mónica Naranjo.
Daniel Diges, despite nerves getting the better of him on the first day, managed to perform as one of the best voices in music history, Whitney Houston singing I Will Always Love You. His masculine build with tell tale biceps probably made resembling Houston too tall an order, but that didn't stop him from really getting into the role.
Another Eurovision former Spanish representative was also present in last night's show when Javier Herrero sang as Sergio Dalma performing his popular Eurovision entry Bailar Pegados.
Below you can watch Daniel Diges performing the role of Whitney Houston: