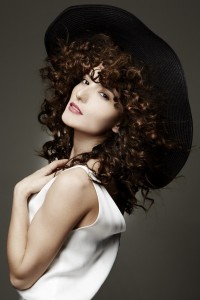 Dilara Kazimova represented Azerbaijan in the final of the 2014 Eurovision Song Contest with her song, Start A Fire. Now she is working on her album which is set for release later this summer. She will work with different music producers and songwriters around Europe and is already working on three new songs.
Dilara Kazimova was this year selected to represent Azerbaijan at the Eurovision Song Contest in Copenhagen. She had previously participated in the Azeri national selections in 2008 as part of the group, Unformal. Then in 2010 she was part of the female duo, Milk & Kisses, who were eventually pipped by Safura to represent their country in the Oslo Eurovision.
Dilara returned this year through the talent show Böyük Səhnə where she ended up the winning act. Start A Fire was composed for her and became the 2014 Azeri Eurovision entry. Earlier in 2014, Dilara took part in the Ukrainian version of The Voice tv competition.
Now after Eurovision Dilara will concentrate on her forthcoming album release due later this summer. After a short vacation she will immediately start work on three songs one of which will be an uptempo track. She will travel around Europe to work with with different producers and songwriters but will also work with Azeri musicians in Baku.
Dilara will also work very soon a new music video for her next single release. She will decide on the single and type of video when all the recordings are made.
You can see Dilara perform Start A Fire the 2014 Eurovision Song Contest below. 

You may also like to read: