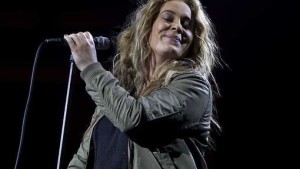 Dutch megastar and 2013 Eurovision Song Contest entrant Anouk has been experiencing severe vocal problems of late, which has led to the cancellation of two out of three concerts that were due to take place last week.
The first in a series of three concerts entitled Symphonica in Rosso was due to take place last Wednesday at the GelreDome in Arnhem. Anouk saw no other option but to cancel her appearance at the last minute, pulling out on the same day while issuing the following statement: "I'm so sorry. I know it's really terrible that I've cancelled tonight's show at such short notice. I've never done this before, but it's just not possible to do. I had hoped right up until the last minute that I would be able to see the concert through. I feel like an ass and it makes me so sad."
Concert organisers tried everything within their powers to ensure that concerts scheduled for Friday and Sunday would go ahead as scheduled. Those with tickets for the cancelled show were sent an e-mail by organisers Live Nation, informing them that a new concert date would be announced. The concert scheduled for Friday the 18th of October went as planned, but only just. Anouk took to the stage after receiving intensive medical treatment for her complaint.
Concert goers hoping to see Anouk perform Birds along with other material from her latest album Sad Singalong Songs live on Sunday the 20th of October weren't so fortunate however. The star was forced to cancel yet again due to flu, which has resulted in persistent problems with her vocal chords. Anouk later explained that singing was extremely painful and could prove to be harmful in the long run if immediate action was not taken. Wednesday's concert has been rescheduled for tomorrow, the 23rd of October, but doctors are advising the singer that in order to make a full recovery from her illness, a minimum of one weeks' rest is neccessary. The new date for Sunday's cancelled appearance is yet to be confirmed, but it's highly unlikely that it will take place this week. We would like to take the opportunity to wish Anouk a speedy recovery and hope to see her back on stage soon.
You might also like to read: