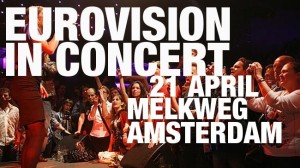 On the 21st of April, few weeks before heading to Baku, a long list of this year's Eurovision Song Contest participants will team up in Amsterdam for the anually Eurovision In Concert. So far four countries have been confirmed, but we should be able to expect a bit over 20 to take part. 
Eurovision In Concert's 4th edition takes place Saturday the 21st of April 2012. Ticketsale has just started and showly the performing acts are being revealed. The evening concert will be hosted by Cornald Mass and Ruth Jacott. The latter represented the Netherlands at the Eurovision Song Contest in 1993 finishing sixth with the fan favourite song Vrede. 
The four acts revealed so far are:

San Marino: Nor artist nor song has been revealed from San Marino yet, but they have confirmed that who ever it will be, the person will be attending Eurovision In Concert.

Cyprus: Ivi Adamou was internally selected by the Cypriot broadcaster who then held a national final where the Cypriot population could choose between three songs and ended up selecting that Ivi will be representing them at the 2012 Eurovision Song Contest with the song La La Love.
Read more about the Cypriot final.

Turkey: The Turkish entry for the 2012 Eurovision Song Contest will be the relatively unknown Can Bonomo, who was internally chosen. The song should be announced anytime soon.

Switzerland: The first country to have a national final selecting its participant for the 2012 Eurovision Song Contest was Switzerland. In their national final, held already December 10th, 2011, the Italian speaking duo Sinplus, won over 13 other participants including the very first Eurovision winner from 1956, Lys Assia. Their song is titled Unbreakable.
Read more about the Swiss national final.
The ticket sale has already started and should you wish to go they can be bought through Eurovision In Concert's website where you can also read more about the event.