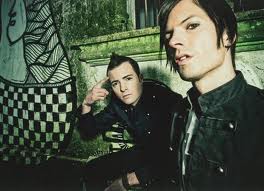 With a mere five months to go until the final of the 2012 Eurovision Song Contest in Baku, Switzerland again kicked off the national final season in their attempt for glory.  Fourteen acts competed for the ticket to Azerbaijan.
The Bodensee Arena in Kreuzlingen, in the northern Swiss canton of Thurgau was again the venue for the Swiss selection for Baku.  After making the Saturday night final in Düsseldorf, hopes were high for a repeat performance.
Sven Epiney was our host for the evening which would feature a wide variety of styles from all corners of Switzerland, including one former winner.  He outlined the format, reminded us of Facebook page and Twitter feed, before introducing us to expert jury of Nik Hartmann, Carlos Leal and Stämpf.
We heard a two minute abridged version of each song.  Televoting was used to pick the winner.
Onto the songs:
1. Real love – Patric Scott & Fabienne Louves –
This was a mid-tempo ballad in English that was heavily choreographed.  Patric was in T-short and a jacket, while Fabienne was i a short sparkly red dress.  There were some echoes of a recent Azeri winner, but it drew a large amount of applause from the enthusiastic crowd.  Our jury generally liked it, commenting on their positive attitude and a perfect smile!
2. She – Emel –
This song, also sung in English, had slightly eastern overtones, a bit like the Dutch entrant Hind.  More choreography and maybe an overuse of the word 'la'.  Our juror Stämpf seemed to think that the vibe of this song would help in Baku, if it got there.
3. Amina nuova – Chiara Dubey –
Qualifier Chiara from Italian-language broadcaster RSI sang this ballad with the accompaniment of a guitarist and many candles.  Dressed simply in a white blouse and dark trousers, she gave a faultless performance of this song.  Surprisingly, this seemed to draw mixed reactions from the jury.
4. Baby baby baby – Guillermo Sorya –
Back to English for this uptempo song from a former backing singer to Anna Rossinelli, so maybe he was relying on his pedigree.  He moved around the stage, and was ably assisted by four very animated female backing singerss.  Our juror Carlos was not too keen on this song – maybe we needed to hear the full three minutes to get it.
5. Shining – Macy –
Our first proper band also performed a modern uptempo song in English.  The lead singer Cyril's vocals seemed slightl weak, and it ended suddenly.  Our jury were not totally won over by this song, but their comments were very constructive.
6. Quand je ferme les yeux – Sosofluo –
A song in French was next, and had something about it.  This six-piece band harmonised well although there were some vocal problems towards the end.  It also drew a mixed reaction from the jury.
7. Black symphony – Atomic-Angels –
This trio of girls, all dressed in short black, danced and sang their way around this R&B-influenced number.  Probably due to the shortening of this, we got more of the heavily-repeated chorus.  The jury were slightly concerned that it was a Eurovision song Contest, and not a dance contest.
We then had a short break, where we were told a little about Baku and Azerbaijan.  Our compere Sven showed us where the venue was likely to be – it's currently a building site.
8. Peace and freedom – IVO –
Jon Bon Jovi look- and sound-alike IVO sung about peace and how we could all live as one in harmony.  He had three female backing singers helping him out, but this didn't really seem to go anywhere.  The jury seemedfairly happy with, sme even going so far to say it was the best so far.
9. L'autre – Ze Flying Zézettes Orchestra –
Another six-piece band presenting a 'different' folky song in French.  It could almost have been Celtic in influence, and at one point the vocalist played the violin.  The jury likened it to Portuguese music, and while being quite positive, did question whether it was the right sort of thing for Eurovision.
10. The song in my head – Raphael Jeger –
Raphael demonstrated his skills as a multi-instrumentalist in his postcard video.  His English language song was mid-tempo, in an uplifting sort of way.  It could almost have come from a Swedish Melodifestival, and it got a good reception from the audience.  Juror Carlos slated this song, as it was too cheesy.
11. Fragile – I Quattro –
National finals often throw up groups of operatic vocalists, and I Quattro were such an act.  It was performed in English, with an Italian chorus. As a twist, the 'four' (all in dark T-shirts and suits) were joined by a blonde girl with a complimenting voice.  It was pleasant, and again got a good reaction from the cow-bell wielding members of the audience.  And generally good comments from the expert jury.
12. Unbreakable – Sinplus –
This started with a heavy guitar riff and had overtones of songs from the 1980s, maybe U2, about it.  It was upbeat, slightly repetitive, but had something about it.  Our jurors likened it to the Killers or very rock-n-roll, and unlike the 'kitsch' sound sometimes associated with Eurovision.
13. C'était me vie – Lys Assia –
This song had the pedigree – a former winner performing, and two winning writers (Ralph Siegel and Jean-Paul Cara) behind it. Lys  was wearing a sparkly black dress with a pearl necklace.   A song in the 'Grand Chanson' style, but again had something about it.  The jury seemed to like it, and shared several jokes with Lys, although again there were reservations about whether a song like that was right for 2012.
14. Wrong to let you go – Katherine St-Laurent –
Finally, blonde Québecoise Katherine, dressed in a long white dress and gold jewellry, gave us another song in English.  She belted out this power ballad aided by three backing singers all in black.  Comparisons were made with fellow Canadian Céline Dion, with a general good vibe coming from the jury.
After the presentation of the songs, Sven explained that the Swiss public was now able to vote, via either telephone of SMS (text).  We got a brief reprise of each song.  Then as the countdown to the end of voting came, we switched to the Green Room to speak to some of the acts.  They all seemed confident, but there could only be one winner.
But first, a quick chat with local heroine Anna Rossinelli.  She'd had a good year and was pleased to have made the final in Düsseldorf.  We saw a short video of her time there, before she sang her new single.
Sven then took us back to Baku – the city of wind – with more about what the Swiss representative could expect there – classes of school children singing Richard Marx's Right here waiting apparently.  And winner Ell showed us some traditional Azeri food and wine.
The jury were then asked who'd they pick to win.  No clear winner, although Chiara and Raphael were mentioned.
The names of the top 3 were then read out, which were Chiara Dubey, IVO and Sinplus.
Who would win?  With a little more tension, the winner was announced as…
Sinplus