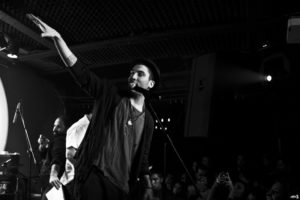 On the way to Baku, Turkish broadcaster TRT made their final decision after all the speculations about who should represent Turkey at the 2012 Eurovision Song Contest. An unspeculated name, Can Bonomo, suprisingly gets the ticket, EuroVisionary has been told exclusively.
The dust has settled in Turkey after the storm of rumours about who would represent the country at this year's Eurovision Song Contest. Today, TRT will officially announce their final decision and the corporation apparantly switched off to national elements in pop music again with Can Bonomo getting  the honour of representing Turkey at the Eurovision Song Contest in Baku in May this year.
Can Bonomo, a Jewish pop singer, but born in İzmir/ Turkey, started his career by playing guitar at the age of eight. At the age of 17, he began his official career as a vocal productionist in İstanbul. At the same time, Can went on with studying TV/cinema at the Bilgi University with his programmes being aired on such popular radio channels Number One FM, Radio101 and Radio Class.Then his radio programmes were followed by programmes in international TV channels such as MTV and Number One TV.
After a very detailed production process, which lasted two years, Can Bonomo released his first album, titled Meczup which was premmiered in Babylon on the 24th of January, 2011. On the album, he wrote all the songs himself. 
Can describes his music style as İstanbulian Music that works with tunes from Alaturca to international indie style. He also admits that he is inspired by The Shins, Wax Poetic, The Kinks, The Libertines and The Beatles. Though 2011 was the first actual year in his career, he succeded to win two Best New Act awards:
Radio Bosphours – Best New Act 2011
58th International Altın Kelebek Awards – Best New Act 
Below you can watch the first videoclips in the career, Meczup, Bana Bir Saz Verin and Şaşkın or you can visit his official website.