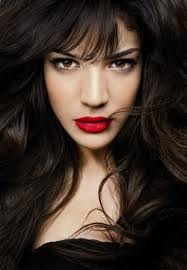 Cypriot singer Ivi Adamou tonight gave the performance of her life (so far), giving her best to three songs, one of which would she would sing in Baku in her country's quest for Eurovision glory. 
Cyprus is an enthusiastic participant in Eurovision, even though its results aren't always what they want.  After mising out on the Eurovision Final in Düsseldorf, broadcaster CyBC organised a simple national final featuring just three songs.  All were uptempo foot-tapping numbers.  But which one would the voters of Aphrodite's go for?
Our programme's host is Christos Gregoriades, and he explained that the result would be decided by a mixture of televoting and jury.  The set was dominated by a central catwalk, with Ivi's name in big pink letters at the back.  Last year's winner Nikki greeted us, wishing Ivi the best luck, before we were treated to a reprise of Running scared from the 2011 Contest.
Christos then went among the audience to ask them their views, positive naturally, about tonight's show.  We then had an extended travelogue of Baku, and what delights await Ivi in May.
The jury of seven were then introduced, and was made up of musicians, local personalities, and even a British representative from a Eurovision fan website.  Then before the songs we were reminded of Christos Mylordou and his time in Düsseldorf, complete with semi-final performance of San aggelos s'agapisa.
More talk followed about people's favourite Cypriot entries, before things finally got underway.
Onto the songs:
1. Call the police – written by Lene Dissing, Jakob Glæsner and Mikko Tamminen.
Jakob, a Dane, sent Ivi a short good luck message, and on the catwalk was Ivi!  In a short silver dress she belted out (possibly mimed) this catchy little number.  It drew very enthusiastic applause from the audience.
While Ivi was preparing for the next song, we had various words of wisdom from moe Cypriot celebrities.
2. La la love – Alex Papaconstantinou, Björn Djupström, Alexandra Zakka, Viktor Svensson.  Viktor and Björn were on hand with a brief word before this next floor-filler of a song.  Ivi herself seemed to like this one more, and she sold this song far more.
Host Christos then talked to us a bit more.  We had a brief parody of Cyprus's 1995 song Sti fotia.  We had more talk from Cypriots, including Evridiki.
3. You don't belong here – written by Niklas Jarl, Alexander Schöld, Sharon Vaugh.  Ivi was
growing in confidence now for this slower song.  Maybe this type of song suits her voice better.  Not quite as catchy as the previous two, but it seemed to demonstrate her vocals better.
After all three songs had been performed, the 20 minute voting window opened, and we were treated to very extended reprises of the three songs.
While we waited for the voting window to close,
we also spoke briefly to Ivi, now the hard work for the night was behind her.
With the window over, we got a taste of Ivi's other work, with her telling us all about it and her life so far.  The jurors then had more to say, about life the universe and everything it seemed.  And wishing Ivi luck with tonight and her time in the run-up to Eurovision.  This round of 'good luck' was completed with a brief word from Swiss entrants Sinplus.
Christos then brandished an envelope which contained the results. The three elements all picked the same song.
So Ivi will be singing La la love in Baku.
Cyprus will perform in the second half of the first semi-final on Tuesday 22 May.