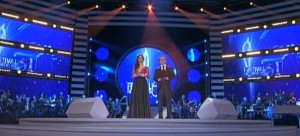 The second of three hectic days in Albania have come to an end with yet another nine qualifiers for the national final tomorrow evening. 
The nine qualifiers from tonight's semi-final are:
Adrian Lulgjuraj & Bledar Sejko – Identitet
Hersi Matmuja – Kush ta dha këtë emër
LYNX – Si ty askush
Anjeza Shahini – Love
Kelly – Ylli im polar
Bojken Lako – Lot.. Jetë? Dashuri
Valon Shehu – Nuk do të ndal
Ani Çuedari – Më ler një ëndërr
Flaka Krelani – Labirint i zemrës 
Together with the lucky 9's from yesterday's semi-final 1 they will form the complete line up for the final of Festivali i Këngës, the national selection in Albania for the Eurovision Song Contest. 
You might also want to read:
Kejsi Tola returns with new song at the 2012 Kenga Magjike festival in Albania
Dorina Plaku releases new single and video