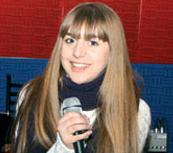 Tonight Albania kicked off their national final selection. Three hectic days will decide who will represent the country at the 2013 Eurovision Song Contest in Malmö. Among the participants tonight fighting for a spot in the final was Kejsi Tola who won the national final in 2009.
Tonight's first semi-final featured a total of 13 acts competing for 9 spots for the final, that will be held on Saturday the 22nd of December.
The 9 songs that qualified for the final were: 
Selami Kolonja – Ku je? 
Rosela Gjylbegu – Dëshirë
Kejsi Tola – S'jemi më atje
Vesa Luma – S'jam perfekt
Dr.Flori & Fabi – Jam ti
Merland Kademi – Këtu fillon parajsa
Rezarta Smaja – Ti?
Ardian Bujupi – I çmendur për ty
Xheni & Enxhi Kumrija – Arti i një fundi
Kejsi Tola represented Albania at the 2009 Eurovision Song Contest with the song Carry Me In Your Dreams, which finished 17th in the final.
For those who had the pleasure of watching tonight's semi-final guest acts like Juliana Pasha (Albania 2010), Luiz Ejlli (Albania 2006) and Compact Disco (Hungary 2012) were hired to entertain as interval acts.
Tomorrow the second semi-final will take place finding the rest of the songs for Saturday's final.