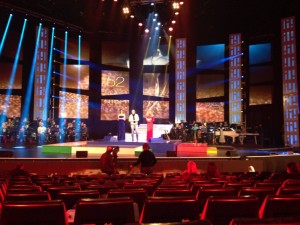 The second show of the most prestigous festival in Albania, i.e. Festivali i Këngës took place last night where another 8 acts were presented to the public before tonight's final. In the 52nd edition of Festivali i Këngës, sixteen acts will compete to represent the Balkan country in Copenhagen.
Like on Thursday, the second show saw another 8 acts presented in a non competitive show last night. The artists also performed duets with other popular Albanian singers. Once again, the well known journalist Enkel Demi together with Albanian beauties Xhesika Berberi and Marinela Meta hosted the show while sixty musicians formed an orchestra which played live accompanying the artists.
The show
1. NA – Jehona
The first number was performed by a group called NA. Their song has a powerful chorus. Only the lead singer was visible on stage while the rest of the group joined the orchestra and played live. Kozma Dushi joined the group on stage for another performance.
2. Marjeta Billo – Ti mungon
Marjeta was next on stage sporting a pirate costume. The song featured a guitar solo. Following her performance of Ti mungon she sang a duet with Juliana Pasha who represented Albania in 2010 with All About You.
3. Xhejsi Jorgaqi – Ëndërrat janë ëndërra
Xhejsi presented the third act which got underway with a very strong opening. The song was an 80s pop pastiche. Eranda Libohova was the singer that sang along with Xhejsi in a duet.
4. Klodian Kaçani – Forca e shpirtit 
The fourth song was a powerful ballad well performed by Klodian who received a warm applause from the audience present at the Pallati i Konverteve. He also sang a duet with Rovena Dilo.
5. Frederik Ndoci – Një ditë shprese
Next was Frederik Ndoci who represented Albania in the 2007 Eurovision Song Contest with Hear My Plea. The strong orchestration of the song showed off Frederik's strong voice perfectly. Irma Libohova joined him on stage for a duet right after the presentation of his song.
6. Besiana Mehmeti and Shkodran Tolaj – Jam larg
It was time for the first competing duet of the night as Besiana and Shkodran sang a melodic song very similar to the Romanian entry in 2002. They were followed by Myfarete Laze who sang another song from previous entries in Festivali i Këngës. 
7. Sajmir Braho – Grua
Sajmir came next on stage to sing the song Grua. The song starts slow but quickly changes to an uptempo number. Right afterwards Flaka Krelani joined Sajmir on stage to perform a duet.
8. Lynx – Princesha
The evening's proceedings were rounded off by Lynx who sang a very strong song. There was also a lot of drums and other percussions used in this act. Following her performance she sang a duet with Eneda Tarifa.
Tonight is the big night in Albania, as the final of 52nd Festivali i Këngës will take place in Tirana's Pallati i Konverteve. Sixteen acts will go on stage once again and one of them will win this prestigious festival and thus will represent Albania in the forthcoming Eurovision Song Contest.
Albania debuted in the 2004 Eurovision Song Contest and managed to rank seventh in that final. However it's best result came in 2012 when Rona Nishliu came fifth in the final with the song Suus.
You might also like to read: