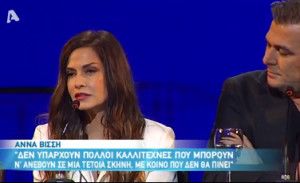 Three-time Eurovision entrant Anna Vissi (Greece 1980 & 2006, Cyprus 1982) will be celebrating her birthday on stage; her new show Ena I Kanena (One or None), a collaboration with popular Greek singer Antonis Remos, opens tonight at Athens' Pantheon Theatre.
This is the first time that Anna Vissi will be collaborating with Antonis Remos. Both artists are leading names in the Greek music industry. Their show Ena I Kanena will combine some of their popular songs staged as a musical theatre show.
During the press conference for the show's premiere, Antonis Remos (pictured with Anna) appeared enthusiastic: 'At this moment, I feel very proud for being on stage with Anna Vissi. She is a unique phenomenon (…) it is difficult to comprehend how, after a career spanning so many years, when she gets on stage she makes you feel like she's a young girl who is just starting out (…) she sings with such spontaneity and love' (for what she's doing).
For Vissi, musical theatre is familiar territory as the artist recently reprised the leading role in rock opera Daimones (Demons), a show in which she first performed in 1991: 'For me, Antonis is the supreme male singer (in Greek music) (…) Last year, I was involved in a show, Daimones, which enjoyed great success (…) After that, I would not like to be involved in anything of a lower standard.'
Anna Vissi was born on 20th December 1957 in Larnaca, Cyprus. She signed her first record deal while still at school in 1973 after her family moved in Athens with the intention of Anna pursuing a musical career. Vissi soon justified her family's faith in her talent; in 1977, she won in the Best Singer and Best Song categories of the then popular Song Festival of Thessaloniki with her entry As Kanoume Apopse Mia Arhi (Let's Make a Start Tonight).
She has since maintained a very successful career. To date, she has released 28 solo albums. Her greatest commercial success came in 2000 with the album Kravgi (The Cry) which went on to become seven-fold platinum in Greece and Cyprus making it one of the most successful album releases ever in both countries. To this date, Vissi has achieved 32 platinum and 11 gold records and has sold over 9.5 million copies of her work worldwide.
Despite achieving three respectable results, Eurovision victory has eluded Anna. The artist managed a fifth place for her native Cyprus in 1982 with the song Mono I Agapi (Only Love). In 2006, the Eurovision Song Contest was held in Greece and Anna Vissi was selected to represent the country once more; although her song, Everything, was one of the favourites to win, Vissi only made it into the top ten achieving ninth place that year. It was by no means a bad result, but, perhaps due to the hype generated around her in the period leading up to the contest, Anna's 2006 return to Eurovision is sometimes seen by her fans as a set-back to her career.
In November, the artist signed a new record deal with Panik Records, the label behind last year's Greek national final and Eurovision entry, Alcohol is Free. You can watch the video for Anna's latest single, I Kathimerinotita Mas (Our Daily Routine) below.
You might also like to read:
Karoline Kruger gives fans a special Christmas gift
Patricia Kraus releases Divazz, the final album of the trilogy
Anna Vissi becomes a grandmother