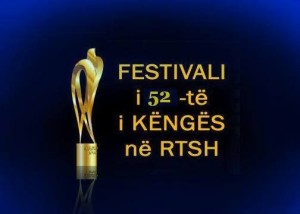 The first show of the 52nd Festivali i Këngës took place tonight at Tirana's Pallati i Konverteve. Sixteen acts are in the run to win this prestigous Albanian festival and thus representing Albania in the 2014 Eurovision Song Contest.
The first show was not competetive and saw eight acts presenting their song on stage. The artists also performed in duet with other popular Albanian singers.
Famous journalist Enkel Demi together with Albanian beauties Xhesika Berberi and Marinela Meta hosted the show while sixty musicians formed an orchestra which played live along with the artists.
This year's Albanian representatives Adrian Lulgjuraj and Bledar Sejko opened the show with the song Identitet. The duo did not manage to qualify to the final of the Eurovision Song Contest.
The show
1. Luiz Ejlli – Kthehu
The run through of the songs kicked-off with Luiz Ejlli who represented the country in 2006. He sang a ballad entitled Kthehu while right afterwards he performed in a duet along with Mira Konçi.
2. Rezarta Smaja – Në zemër
Rezarta was next on stage clad in a tight black dress. She sang a very strong pop rock song and then performed a ballad song along with Elton Deda.
3. Edmond Mancaku & Entela Zhula – Vetëm për ty
This year, Edmond and Entela joined forces after competing in this festival as solo singers. The duo performed a moving song with the piano and string instruments highly used in this composition. The duo became a trio when they performed with Altin Goci right after their song Vetëm për ty. 
4. Lindi Islami & Venera Lumani – Natë e pare
Another duo came on stage with two strong voices. Venera won the popular cast show The Voice. The singers originally from F.Y.R. Macedonia sang a romantic ballad. The pair sang another song along with Olta Boka who represented Albania in the 2008 Eurovision Song Contest that took place in Belgrade.
5. Xhejn & Enxhi Kumrija – Kur qielli qan
It was time for another duo. The two sisters performed a mid-tempo rock-pop with a very repetetive tune. Redon Makashi went on stage for their second performance of the night.
6. Renis Gjoka – Nuk e di
The sixth act was another rock ballad with Renis clad in a dark suit. After his performance of the song Nuk e di, he was joined by Kejsi Tola who represented Albania in 2009. They sang a up-tempo late 70s disco song. 
7. Blerina Braka – Mikja ime
Blerina was next on stage singing a ballad which has a strong crescendo to make it a bit more powerful. There is also a guitar solo and the backing vocals are doing an effective chorus. The blonde artist performed a duo with Flaka Krelani following her presentation of Mikja ime. 
8. Herciana Matmuja – Zemërimi i një nate
Herciana is the last competitor to go on stage tonight as the introduction of the song sounded promising. The tune quickly switched into a moving ballad with another solo guitar performed. Her voice was unique tonight and presented well this emotional ballad. The participant was joined by Endri and Stefi Prifti who sang another a Spanish tune song together.
Tomorrow another eight acts will be presented with the same format of tonight. In the final the sixteen acts will compete to win the 52nd edition of the most prestigous festival in Albania. The winning act will also win the ticket to represent the Balkan country in the forthcoming Eurovision Song Contest to be held in Copenhagen on 6th, 8th and 10th May 2014.