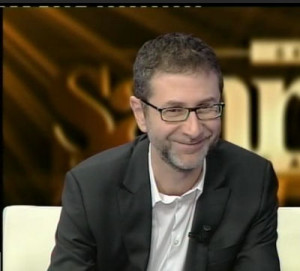 Earlier today, the head of the selection committee for the 2014 Sanremo Festival, Fabio Fazio, announced the names of the singers and the songs which will compete in the 64th edition of the famous event.
The format is the same as this year, with each of the fourteen acts presenting two songs, one of which will be eliminated with the most popular song going forward to the final evening of the festival and the chance of winning the festival outright.
The acts and songs are:
Antonella Ruggiero
Quando balliamo
Da lontano
Arisa
Lentamente
Controvento
Cristiano de Andre'
Invisibili
Il cielo e' vuoto
Francesco Renga
A un isolato da te
Vivendo adesso
Francesco Sarcina
Nel tuo sorriso
In questa citta'
Frankie Hi-NRG
Pedala
Un uomo e' vivo
Giuliano Palma
Cosi' lontano
Un bacio crudele
Giusy Ferreri
L'amore possiede il bene
Ti porto a cena con me
Noemi
Bagnati dal sole
Un uomo e' un albero
Perturbazione
L'Unica
L'Italia vista dal bar
Raphael Gualazzi feat. Bloody Beetroots
Liberi o no
Tanto ci sei
Renzo Rubino
Ora
Per sempre e poi basta
Ricardo Sinigallia
Prima di andare via
Una rigenerazione
Ron
Un abbraccio unico
Sing in the rain
Raphael  Gualazzi spearheaded the Italian return to the contest in 2011, achieving a creditable 2nd place with the jazz inspired Folia d'amore. Antonella Ruggiero was for a long time the lead singer of Matia Bazar and was part of the band when they represented Italy in the 1979 Eurovision Song Contest with Raggio di Luna, finishing 15th.
No decision has yet been made about whether RAI will choose their Copenhagen representative from this line up. If they do, look out for Arisa, Francesco Renga or Noemi.
Fabio Fazio will host the festival with Luciana Littizzetto after their very successful partnership in Sanremo earlier this year. The festival will run from 18th to 22nd February and will be held in the Teatro Ariston, the home of the festival since it moved from the casino in 1977.