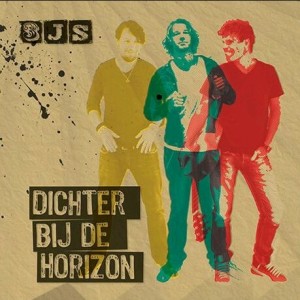 Dutch trio 3JS are currently enjoying success and riding high in the Dutch charts with their latest offering, Dichter bij de horizon. This is their first studio album featuring the newest line up following the replacement of Jaap de Witte by his son Jan at the start of the year.
The trio's eagerly anticipated album Dichter bij de horizon has managed to equal the chart placing of their greatest hits compilation, Totzoverder – Het beste van. It has also acheived the same placing as the last studio album of the talented threesome, 4 Elementen, released at the beginning of 2012, jumping straight in at number 3 on the Dutch charts. The lead single from the album, Til Me Op, was released earlier this summer, performing well on the charts.
The band have earned themselves a great reputation as live performers in their home country and have made something of a tradition of embarking on nationwide theatre tours. Their last theatre tour, Bronnen, consisted of over thirty gigs the length and breadth of the country and was highly successful. Their latest tour, due to commence on the 15th of January in Beverwijk and coming to an end in Rotterdam on the 24th of April is equally as ambitious, with a total of 27 concerts.
Tickets have been put on sale, starting from €27, and can be purchased through the Nationale Theaterkassa website. While waiting for their extensive tour to kick off, why not check out their latest music video, Til Me Op below.
You might also like to read: