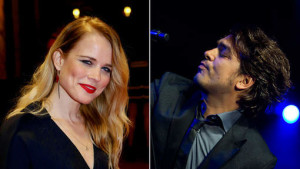 Anouk managed what many had tried to do before her : bring the Netherlands back into the Eurovision final for the first time since 2004. Rumours have been circulating as to who will represent the Netherlands next year in Copenhagen. Broadcaster AvroTros confirmed today that Ilse DeLange and Waylon would be defending the Dutch honour on stage next year.
The run up to last year's Dutch selection saw what almost became something of a soap opera – will she? Won't she? Years of hoping that Anouk would indeed fly the flag for the Netherlands at the 2013 Eurovision Song Contest in Malmö were finally confirmed after Dutch broadcaster TROS scrapped their plans of having a national final and instead chose Anouk internally. Their brave decision paid off, with Anouk and her startling ballad Birds taking the Netherlands back to the final for the first time since 2004 and even awarding them a top ten placing, finishing up ninth.
High on success, the immediate reaction of some fans was that Anouk should return and repeat her success. With an artist of her calibre participating for the Netherlands, so many other doors were opened, with names such as world renowned DJs Armin van Buuren and Tiësto being mentioned as possible candidates.
Speculation over the successor to Anouk reached new heights in the beginning of November, when artist Ilse DeLange made a comment on the TV show Late Night that she would love the task of representing the Netherlands. This naturally snowballed, causing the hearts of many a fan of Dutch music to flutter, as DeLange is an established artist who has been active since the late nineties, a multi platinum selling artist whose albums have all topped the Dutch charts bar one.
By mid November however, reports had begun to surface in the Dutch media that Ilse DeLange would indeed be involved in next year's Dutch entry, but as a songwriter. Another name was now reportedly in the running, that of Waylon. Although not as established an artist as DeLange, Waylon is nevertheless an exciting name for many. He got his first major brekathrough after finishing second in the talent show Holland's Got Talent back in 2008. His debut album appeared in 2009, the follow up album coming in 2011 with both selling extremely well in his home country. With seven singles to his name, Waylon also has considerable experience as a performer and should give a polished show, should he be selected for Copenhagen. 
And so today, weeks of speculation surrounding the Dutch entrant for next year's contest have finally been put to rest. Dutch broadcaster AvroTros confirmed that the honour of representing the Netherlands in Copenhagen has been bestowed upon both Waylon & Ilse DeLange, who will take to the stage under the name Common Linnets. No details surrounding the song have been given as of yet – stay tuned for more updates as and when they occur.
You might also like to read: