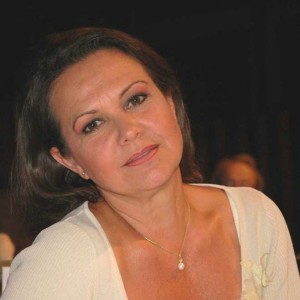 Anne-Marie David revealed her soft spot for Daniel Diges in first half of this longer interview, but that was nothing compared to what she feel about Harel Skaat. In this second half she also talks about working together with other artists, a possible return to Eurovision and she reveals just what she will be doing in every weekend of March 2012. 
In our first part of this interview the 1973 Eurovision Song Contest winner Anne-Marie David talked about her participation at the contest, what it changed for her and how that was compared to the ones who takes part now. She also revealed more information about the 5 track CD she is about to release and talked about Danies Diges (Spain 2010) and Harel Skaat (Israel 2010). 
Let's continue where we left talking about these new songs. We ask if she has thought about translating them into other languages? Yes, yes, I almost always make both English and Spanish versions of my work, and also in Turkish because I have a huge fan base there. I've also made a few attempts at Hebrew, so I'll try singing in Hebrew. 
Will this also result in an international tour?

Ahhh! Well, that's certainly my intention, yes, I'd love to do all that, maybe OGAE could help there. There are plenty of suitable venues to bring people together.
And actually 2012 is an important year for me, I'll turn 60 and I'll also be celebrating my 40 years as an artist.

Your work has always been extremely personal, you deliver your songs with so much passion. Looking quickly back at your win in 1973 for Luxembourg with the same song Tu Te Reconnaîtras and then in 1979 with Je Suis L'enfant Soleil representing France and finishing 3rd. You put so much dedication into them – is that also what it's like to be Anne-Marie David every single day of your life?
That's living! People who know me say to me constantly; God, you live life to the full, you see, nowadays I've discovered just how precious life is. I've been anded some great things, I've been blessed with doing a job I love, I'm by no means a billionaire, but I'm richer in so many other ways.
I sense a woman who is so committed, ready to stand for her believe and to defend both them and the people she loves with tooth and nail. Am I far off the mark there?

No, no, not at all. Some days it doesn't quite feel like that, but anyway, I don't live my life through regrets or nostalgia. You can't live your life looking constantly through a rear view mirror, I only use those when trying to rear park my car.
Your duet with Harel Skaat in 2010 is such a precious gift to all of those who love the Eurovision Song Contest, and as a result of his encounter, you wrote the french version of his song; Il Restera Ses Mots. Could this maybe give us a hope that your name will also be seen in future collaborations with new artists?
Oh… Harel, I don't know how to explain it, but when I saw this young man, things just clicked from the beginning, we both were living in a small village… he's so cute and I told him: Damn, If I was 40 years younger… (laughs). On the programme where he was the featured artist, he insisted to the producers that I should be allowed to sing Tu Te Reconnaîtras with him. And upon meeting him, I fell completely for the artist and for the person behind the artist… I love both Harel Skaat and Harel.
I got exactly the same feelings for a young French artist, who caught my attention, called Fanny Egea. She was one of the members of the group CAPRICES who I would have chosen to represent France at Eurovision in 2009.
Then, I met another artist with Azeri roots, Seyran Ismailkhanov and together with him I'm going to record a new version of Tu Te Reconnaîtras. This generation have so many things to say, so many things to sing about.
This is probably something you've been asked a lot of times, but what do you think of the fact that Luxemburg no longer takes part at the Eurovision Contest and hasn't done so for many years now ?
I'd love to see them return, mainly because they've enjoyed so much success at the contest, I've been asked to support the campaign and I do so with great pleasure. But I've alos asked myself just what would happen if they were to return, because nowadays, Eurovision has changed so much… when you consider that Yugoslavia fractioned off into 7 separate countries, thus making 7 votes, throwing a spanner in the works for any song in French.
So, you can't really foresee a succesful comeback to the stage for Luxemburg just as Italy achieved at this year's contest?

Well, I suppose, they could give it a go… but what seems to be the case for any French speaking country, one seems to forget, that the French that is taught overseas, it's the language of Molière, of Sartre, De Camus, of La Fontaine, the language used by Baudelaire, it's not "le Slam", it's not texting, far from it. I wrote to the ministry of culture, and if I can persuade him to see my show, when I got something to say. I say: You see, Minister of culture, you need to bear in mind that, when you want to export wine, exporting fine wines, because everyone knows how to make cheap wine. With songs, it's the same thing, there's no point in sending a cheap entry, because there are already enough of those! We don't have any fine wines, Oenology has disappeared… there are no artistic directors anymore, no more record label involvement, nothing.
You see, I was at a competition in Cyprus, where I took Fanny Egea along with me, the main thing with this competition being that they've moved away from Eurovision, they perform in their mother tongue. The first winner sang in Azeri, the second winner in English, that was for Malta, and then the third… that was Fanny Egea singing in French for France… winning from a field of 52 competitors. We quickly forget that France is synonymous with feeling, because when we finally realise that we can make a French language song sellable and viable, only then will we be able to win.
Lys Assia, the very first winner of the Eurovision Song Contest in 1956 is once more taking part in the Swiss selection for 2012, also other artists have tried their luck repeatedly at the contest with varying degrees of success, you too, returning to the contest 6 years after your win. Can we rule out the possibility of seeing you return to the contest in the future?

Anne-Marie David laughs before she continues: Every year I'm asked the same question, I would honestly love to do it, but I feel I no longer fit in. I know Lys Assia very well, I love her so much, but if he does succeed, then she'll take away that opportunity from a much younger artist in need of the exposure. When I myself won at Eurovision, I was 21. I took another shot 6 years later because I was stigmatised for not having represented my own country, today however, the only risk I'd run if I was to return would be to be made fun of, but that doesn't really matter to me.


What I would therefore like to do is to act as a coach, to help with the mental preparation needed prior to taking part. An athlete may have the determination and will to work, but with the right mental attitude, his or her chances of winning are increased tenfold.
Anne-Marie, As a French fellow countryman – A little scoop for EuroVisionary.com?

The scoop, apart from my upcoming 5 track CD, is the confirmation of 20 concerts in Paris in March 2012, every Saturday and Sunday, with two performances at 3 and 5 pm, probably to be held at the Théâtre du Temple, but venue is not entirely confirmed yet.
One final question Anne-Marie: Which question that you haven't already been asked would you ask yourself and what would the answer be?

Anne-Marie David burst into laugther, before she continues: What kind of question would I ask myself? The first question I ask artists is What is it that drives you?, and according to the answer, you can see whether or not you're sitting face to face with either an artist or someone dreaming of being an artist and you see whether or not they have what it takes.
EuroVisionary.com would like to thank Anne-Marie David for taking the time to talk to us with her kindness, her honesty and her warm welcome. Anne-Marie ends with the words: I've had a lovely time, thank you so much as well.
Links