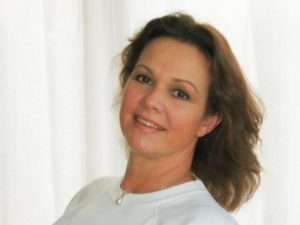 Anne-Marie David is re-releasing her 1973 Eurovision Song Contest Victory, Tu Te Reconnaîtras, for Luxemburg. EuroVisionary used that oppertunity to catch up with her for an hour long interview where she talked about also releasing a French version of two Eurovision Song Contest entries from 2010; the Spanish and the Israeli.   
Our new French journalist was very nervous when he talked to Anne-Marie David, who however saw herself as a good luck charm for his future work. He wanted to show glimpse of Anne-Marie as the woman, the artist and the performer she is to which she answered: "OK, well there's a lot to get through (laughs), that's quite a novel question, to ask about the woman in me". With that in mind he jumped straight into it starting at 1973.  
What has the Eurovision Song Contest done for you, what role has it played in your life?
It has seemed like this huge whirlwind, that's the first image that springs to mind… because it disrupts everything, just as a whirlwind does, and it carries you off just like a whirlwind. Nowadays it's not like that anymore, because when I took part there was so much work involved together with the record label that I was signed for. There was so much to prepare within the space of a year, so most of 1972 was spent preparing for 1973.
At the same time, the record label had decided to work on a highly personal and individual basis with me, which just isn't done any more. When creating an image, a look, you're not dressed in the same way if say you're a size 56 as when you're a size 36, and as far as the songs go, it's the same principle ; there are songs which suite some artists perfectly, others not so. My advantage was that I had a great team behind me who really wanted to win, things started with Luxembourg so wanting to win, and then my record label at the time, EPIC CBS, had never won this competition, so it was in some respects a challenge for them to do it… very basic preperations were made, initially, I was consigned an artistic director, who I'd love to pay my respects to as he recently passed away, Jean-Jacques Souplet. He came up with the great idea of: demanding the most from everybody involved, and he had something like 250 songs submitted for me!
Jean-Jacques moved heaven and earth so that all the publishers sent in everything they had lying in their drawers, under the pretext of representing Luxemburg the following year at Eurovision. With that in mind the record company decided that we were going to make 10 complete demos, which meant recording with a full symphonic orchestra. Quite a shrewd move, they said, because if we won, then there would already be an entire album's worth of material! One, two, three consecutive singles!
So, such a very big promotion for that period?
Obviously. There was a marketing strategy, a long term one and I was so lucky in having the best writers, the best composers and their combined efforts resulted in Tu te Reconnaîtras. Having said that, today, when preparing the evening before the contest, you simply do not have the same opportunities to win that I had. That's one thing that gets to me a little, because after all, so much hard work is involved on the part of the artist. You have these almost childlike dreams… and at the same time you don't really stand much of a chance. Today, it's the small things that are deciding as to whether or not you win, a victory is not neccessarily the result of months of dedication and hard work.
That Anne-Marie David is a woman with strong opinions is made clear when she talks about the lack of respect we see from time to time: "I don't hear much repsect for the craft, commentators passing judgement on whether one artist is overweight, commenting on the hairstyle of another… all the more detestable are those who criticize, but who couldn't hold a tune themselves! I just can't accept that, it makes me so angry sometimes". And she continues: "People who have made this journey, who have these experiences are subject to a great deal of criticism,…I could have done better, done worse or even done things differently… but at the end of the day, I'd say that my experiences, they are what they are and no one can take those away from me. At the moment, I have free reigns, doing what I want with whom I want, and if somebody doesn't like that, then that's too bad. When I get up in the morning, I think that I'm a pretty decent person".
Now let's turn attention to your latest project. You're giving us a real treat, by re-releasing two songs including Tu Te Reconnaîtras. Why did you decide to re-release the song?

Oh well, I wouldn't say it was a decision, you see… when I see just how much young people appreciate my work, who love this song and who approach me and consider me as some kind of siginifcant figure, it was a little jarring at first, but at the same time, you become something of an icon. Throughout the years I've always had a genuine love of my work and for fans of the Eurovision Song Contest, because that's one of the most important things in my life. When you win the contest, when you actually win Eurovision, you don't really realise what is happening, it's all just too much to take in.
I saw a guy walk into a festival where I was sitting among the jury members, and he told me You're my favourite Eurovision artist, I looked at him rather bemusedly, as he said to me You're part of that world, you have that mad look about, to which I replied that he wasn't far off the truth. He told me that he felt this way too, and asked me to do something quite extraordinary.
And by that, you mean Mave O'Rick?

Yes, as a matter of fact, all artists make remixes, they keep their vocals and rearrange the music, but never before has an artist agreed to sing her song with the voice she has today, so why not give it a go? He told me: I'm German, I'll make a backing track for you, I'll give you a brand new musical look, make a duet with you, it would do my career wonders. I really loved his approach, that young talents use my name like a stepping stone.
Mave O'Rick is a quick worker, that's how our German language duet came about Du Bist Da, on the other hand, I may want to go back into the studio to make a new recording of the French version, also as a duet.
When can we expect a new album?

An album 15, 20 songs… never. However I am up for another solution, I became something of a businesswoman, I get in touch myself with the mayors of the municipalities, I set up and book all of my events, I get my music released, the public is not in the same frame of mind they're in concert mode. I'm currently in the middle of making a CD single with 5 brand new songs which will be released in about a month and a half.
Could you tell a little about the writers and composers ? Or is everything under wraps for the time being?
No, no there's no secrecy at all. Thanks to the internet, travelling from one country to another, holding concerts, taking part at OGAE conventions, and last but not least, thanks to Eurovision, I met the composer of Millim (Israel 2010), Tomer Hadadi. When I'd heard how this guy worked, I got in touch with him and requested a song for a young girl who was taking part in a contest. I'd already written the lyrics, and so I decided to keep the song for myself too, which is the song Je N'ai Jamais Su, one of the 5 tracks on the single. Then later on, that same year, I was put in touch with, Daniel Diges (Spain 2010), who I have something as a soft spot for. I then got hold of and met with Daniel and the composer of his entry, Jesús Cañadilla, in Spain at the OGAE convention and I told him how much I adored his song. And asked if he would allow me to record a french version of it? He gave me his blessing and so a new recording came out of it, given the title Adieu Pequeñito.
Then there's the another matter which is currently under discussion; I'm in no way certain that I have the vocal range to do it, but I would love to make my own version of Millim in French, and I'd also love to do a duet with Harel Skaat. I'm going to bring him along as a guest at a concert I'll be holding in Germany in 2012.
There's also another amazing song, written a few years ago, by Jean Musy and Franck Thomas; On Rêve, On Rêve, a marvellous song.
Another song is by Mike Shanon, the man behind Quand Vient La Fin Fe L'été (Sealed With A Kiss).
The 5th track, will be one that I've just completed, called L'inconnue Que Je Suis, which I wrote together with a Scottish composer called Mark Kearns. Through this song, I'll pay a tribute to all my fans and to all of the writers and composers who have made me the woman and the artist that I am today, and who people have come to know and that's why it's called L'inconnue Que Je Suis. I wanted to say thank you to my fans, to the people who are still by my side after 38 years.
I'm also in the process of writing a book by the same name L'inconnue Que Je Suis, which I would love to finish.
The interview will continue in part two where Anne-Marie David reveals more of her future plans. 
Links