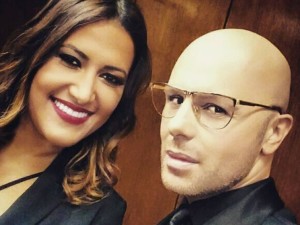 After 3 years of absence Bosnia & Herzegovina confirmed in November that they return to the 2016 Eurovision Song Contest. Dalal Midhat-Talakić and Deen was chosen internally, and now more details has been announced such as the song to be sung in Bosnian.
Lejla Babovic the Bosnian Head of Delegation, has spoken to Faktor News revealing more details about their entry in the upcoming Eurovision Song Contest. The song will be presented in the second half of February on a television show where the last Bosnian representative from Eurovision 2012 Maya Sar will be special guest star.
Lejla Babovic explained that they chose to perform in Bosnian as it sounds better than in English.
With all the Balkan countries taking part in this year's contest, a song in their native language will be understood easier by their neighbours, which might be an advantage.
The song title hasn't been decided yet, but they have two options as Lejla Babovic explained. Sarajevo-based rapper Jasmin Fazlic Jala and popular singer Zuzi Zu are co-writing the lyrics of the song.
There are also plans to make a video clip, but that depends on the budget. Babovic said that the Bosnian broadcaster wants to shoot a video clip with the natural beauty of Bosnia and Herzegovina shown.
Bosnia & Herzogovina in the Eurovision Song Contest
Bosnia and Herzegovina joined the Eurovision Song Contest as an independent state in 1993 while war was still raging in the country. As part of Yugoslavia, artists from Bosnia and Herzegovina competed in Eurovision in 1964 (the only time ever that Yugoslavia finished last), 1965, 1973, 1976 and 1981. Bosnia and Herzegovina has managed to qualify for the final of every contest they have participated in. The country's best result to date was a third place in 2006 in Athens with Hari Mata Hari and Lejla.
Deen previously represented Bosnia and Hezegovina in 2004 when, singing In The Disco, came ninth. Due the qualification system at the time, his top ten ranking automatically secured a place for the country in the following year's final. In the following video, you can watch Deen performing In The Disco in Istanbul.