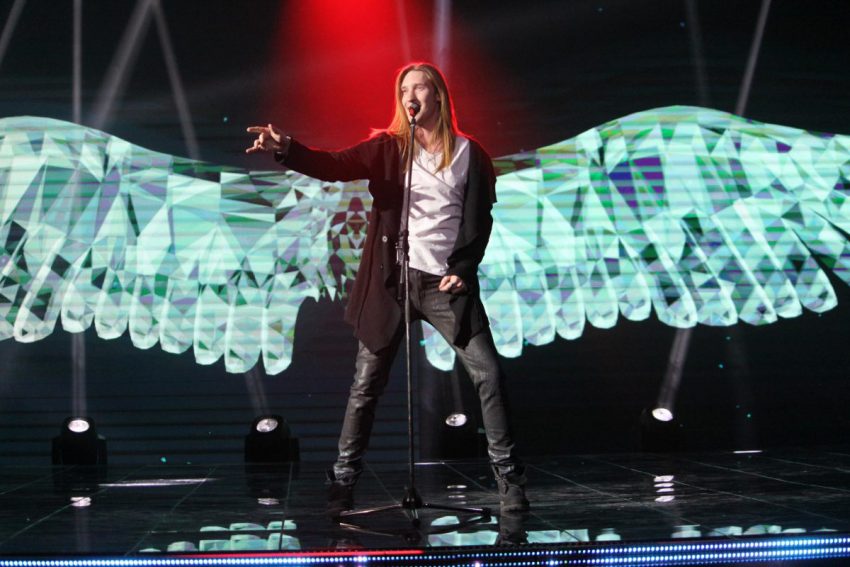 Tonight Belarus became the fourth country to select their entry for the Eurovision Song Contest 2016 to be held in Stockholm in May.Teo, the Cheesecake singer from Copenhagen 2014 hosted the glitzy final which ended up giving Ivan the victory.
Ten artists competed tonight for the chance to represent Belarus at this years Eurovision Song Contest. The country is taking the contest more seriously these days and are making every effort to host a high quality selection show.
 The songs
Aleksey Gross: Flame
Aleksey opened the contest with a very nice ballad sitting at the piano which continued to play when he stood up. The start was like Carola's Invincible but it didn't continue in that vein The five backing vocalists stood around for a while before getting something to do, but eventually the five of them were singing out loud to a rousing ending.
Sasha Zakharik – Glory Night
The fog machine and a bench were Sahsa's props and she lingered around the bench a little too long before losing the rags to a ballerina type lace frock .Her two little backing vocalists hummed along unseen in the jaunty chorus. It was a slow starter but as the girls got more into the song, it became a bright and breezy little song.
Valeria Sadovskay – Not Alone
A nice cello at the start and pretty strong vocals from Valeria. Staging care of Sanna Nielsen, fog machine and stage lights, and traces of Undo in the actual song. When Valeria got bored with the ballad, she upped the last half to a dance beat and a  red type pantsuit that Trijntje Oosterhuis would have killed for.
Radiovolna – Radiowave
The four piece band had a bit of a guitar riff going on, was a bit like Lorraine In The Rain speeded up. A teachers cape was the trendy stage outfit of choice for the lead singer for this mid tempo, mildly catchy pop song. The audience loved it.
THE EM – Turn Around
This young male duo sang a moody gentle little number starting off lying on the floor, harmonizing very well together. Lots of walking around gazing into each others eyes with one female backing vocalist. It suffered a little in the knowledge that English is not their first language, but the song built to a nice chorus.
NAVI – Гэта зямля (This Land)
This duo sang a very pleasant song in Belarusian about the Earth we live on. Vocals were simple and in tune. It was no Stig and Elina, that's for sure but it was easy to tell the couple loved the planet and they got the first audience clap along of the night.
Aleksandr Ivanov – How To Fly
Aleksander has the gargling with razors type of voice, maybe the disposable kind rather than a sharp blade. He has a reasonably good singing voice but needs practice if he's going to go to Stockholm. The song has a bit of guitar guiding it along. It proved very popular in the hall
Anastasiya Malashkevich: Pray For Love
A rough angry vocal from Anastasiya resembling Kaliopi a  little. Dressed all in black this was a gutsy little number but it made the mistake of stopping half way through, never a good thing.
Kirill Ermakov – Running To The Sun
This is a catchy little  pop dance number too, wouldn't be out of place in the charts these days. Trendy young singer with two backing vocalists and two dancers bopping away behind him in orange and grey hoodies. Popular with the audience.
NAPOLI – My Universe
Very Disney and nothing wrong with that at all. This could be a sing-a-long number. Napoli had her princess dress on with Peter Pan's ship in the background. After the number she waved her pixie dust and flew off back to Never Never Land.
The show
Teo and his wife, Olga Ryzhikova, hosted tonight's show from the 600 metres studios in Minsk. Teo was still dressed in the same suit from Copenhagen, while Olga glowed in a red Jessica Rabbit number. After a brief introduction, the telephone numbers were given to allow the public to vote. Teo then sang, ok mimed, his latest release and wife Olga proved to be quite the good lip syncher too. The show followed what is becoming a Eurovision standard, postcards before each act performed.
After all the songs had been sung, the telephone numbers were displayed again and the songs reprised.
Alyona Lanskaya appeared to sing the song Vendetta during the voting and she was followed by a mini concert of some of Bealrus's top singers including Gunesh with Heartbroken Woman.
The results
The results were chosen by tele voting. In the end IVAN scored the most votes and therefore will head to Stockholm.
| | | |
| --- | --- | --- |
|  Artist | Votes | |
| Aleksey Gross |  1202 | |
| Sasha Zakharik |  727 | |
| Valeria Sadovskaya |  1322 | |
| Radiovolna |  805 | |
| THE EM |  2164 | |
| NAVI |  5423 | |
| IVAN (Aleksandr Ivanov |  23161 | |
|  Anastasiya Malashkevich |  2680 | |
|  Kirill Ermakov |  13555 | |
| NAPOLI |  22399 | |
Belarus in the Eurovision Song Contest
Belarus have competed in the Eurovision Song Contest, twelve times. They first entered in 2004 with Aleksandra and Konstantin with the song My Galileo. The song failed to qualify for the final , and Belarus had to wait until 2007 to appear in a final. This was with Dmitry Koldun and Work That Magic, which finished 6th, which is Belarus's best result to date.
In the following eight years, Belarus has filed to qualify five times. In 2010, 3+2 made it to the final, but finished up in 24th place with Butterflies. The other two times they qualified was in 2013 and2014 , when on both occasions  they placed 16th. The first was with Alyona Lanskaya with Solayah, and then again with this year's host Teo and Cheesecake.
Below is a performance of tonight's winning song
While you are at it, why not check up on what Belarus have been doing in the past in this highlight video where we bring you clips from Eurovision Song Contest, various parties and interviews. You might find some clips which you haven't seen before.