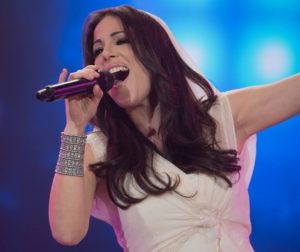 Tonight PBS Malta held their grand finale to select the song which will represent the small island nation in the Eurovision Song Contest 2016 in Stockholm, Sweden in May. 153 songs were originally submitted to the TV station, but in the end only one song was left – and it was sung by previous Eurovision runner up, Ira Losco.
Fourteen acts battled it out tonight in Valetta to win the honour of representing Malta at this years Eurovision Song Contest
The songs
Deborah C – All Around The World
From performing last in the semi, to first in the final, it seems to have added life to the song. What an opener. The hall is jumping and the Maltese flags are a-waving. We're in the club straight away and Deborah and her girls are giving it their all. Arms are waving, the beat is stomping and the saxophone is a blaring.
Franklin – Little Love
So a real slow down for Franklin and his beautiful little ballad. Frankie has a very high singing voice but it is well suited to this song and a nice contrast to the first song. Frankie sings the song with passion much to the audience's delight.
Daniel Testa – Under The Sun
Back to the dance floor with Daniel. Pulsating violins and the four backing dancers. Good rousing chorus. Daniel's vocals don't quite match the genre but probably just needs practice.
Brooke – Golden
This really is a power house of a song. Very well sung, builds up nicely, the audience were clapping throughout the performance. The special effects department needed to tone it down just a little and maybe it's too much like last years entry, but this has to be a contender.
Raquel – Flashing Lights
Another anthem like number which really gets going by the chorus. The more you hear some of these songs, the better they get, and this one is really appealing. This is a real modern song, it will be hard to pick a winner.
Christabelle – Kingdom
This is another big banging dance number. The electronic drums in the background and Christabelle knows how to belt out these vocals. The audience is up jumping and dancing with her. How is Malta going to choose?
Corazon – Falling Glass
Corazon has a Disney princess type of voice, which is well suited for this song. Dressed all in white the song starts out slow but is soon thumping away with the electric drum beats. Malta is going anthemic this year.
Dominic – Fire Burn
Again another up beat anthem type song, very well sung. Four backing dancers, this is a real dance floor number.
Jessika – The Flame
Flaming is definitely the best way to describe this. Very powerful vocals again but a bit more subtle than some of the other dancier songs tonight. They are all running one into another but individually not a bad collection of songs.
Jasmine – Alive
Another one that sounds like its going to be a dance number, but after the introduction, the song does quite reach dance levels. More of an anthem and again very Melodifestivalen like. Lots of drums and synthesizers in the background, but can't see Malta going for the fighter after the Warrior. Its very Elena like, that's it.
Lawrence Gray – You're Beautiful
Good timing that this is split up a little from Franklin. Another passionate ballad, getting the audience all into a frenzy
Maxine: Young Love
There's no question this is a bouncy sing a long sixties type number with Maxine in her electric blue dress with her backing vocalists in primrose yellow – but won't it be the song to become annoying the quickest.
Ira Losco – Chameleon
Ira gets loud screams after only one note and it continues all the way throughout the performance. There's nothing wrong with the song, another big bouncy number, but her name is overshadowing other well deserving songs in the show. Is she coming back to Eurovision?
Kim – Lighthouse
The last song and it ahs to be said Malta really has pulled out all the stops this year. Ending with a gentler ballad, Kim with her guitar sounds refreshing amongst whats really been with a few exceptions , with big electronic dance music party. Good ending to the competition.
The show
One thing that needs to be said about Malta's show is that they like to keep us waiting. Come on Malta let's get this show on the road.
The show eventually opened with an endless montage of the 2015 Junior Eurovision Song Contest, then there she was, the winner Destiny Chukunyere singing her winning number which woke up the crowd, who also were checking their watches. Here comes Ben, who welcomed the world to the show.
This time the songs are getting announced in groups of three. After the third song it was time to salvate over more products.
Ben came back to introduce the next group of songs. He is dressed in a black suit, shirt and tie. By the time there were no more songs to be divided by three, Ira and Kim ended up in a twosome.
When they were finished it was time for the reprise of all the songs and a heck of a lot of sponsored messages. The reprises weren't finished yet and back they came for another showing.
The countdown to the closing of the televoting, led into another appearance of Destiny who sang Stooches Black Heart.. Etta James'  At Last and Aretha Franklin's Think. This kiddos' got soul.
Ben came back and of course we couldn't leave without one more appearance from the warrior queen Amber. A slowed down version of her Euro classic led into a medley of forthcoming tracks from her new album. #UNITE.
Guess what followed ? – If you said more sponsored messages go to the top of the class, and, emmmm, treat yourself to some yogurt and a well known soft drink.
The results
The winner was chosen by televoting and a host of professional jury members. The televoting had Ira in the lead, but after a few jury members Golden took the lead. However by the end Ira had gone back into the lead and will represent Malta this year.
Malta in the Eurovision Song Contest
Malta have competed in the Eurovision Song Contest, twenty eight times. In 1971 and 1972 Malta placed last and after Renato placed 12th in 1975 with Singing This Song, they were absent until 1991.
They made a spectacular comeback with Paul Giordimaina and Georgina with Could It Be which placed 6th and then Mary Spiteri did even better in 1992, placing 3rd with Little Child. For the first 12 years Malta placed in the top 10 and it seemed like  that it was only a matter of time before they win. Ira Losco lost out thanks to the final jury in 2002 with 7th Wonder , while Chiara had the same fate in 1998 with The One That I Love. She also placed 2nd in 2005 with Angel.
Malta's fortunes has taken a downturn since then, with only one top ten place since then with Gianluca Bezzina and Tomorrow in 2013.
Last year Amber became the 5th Maltese entry to miss the Grand Final.
Also, don't forget to check out our highlight video of Malta at the Eurovision Song Contest 2011 – 2015. With a video that contains more clips than just from the Eurovision stage itself, you are likely to see something you haven't seen before.