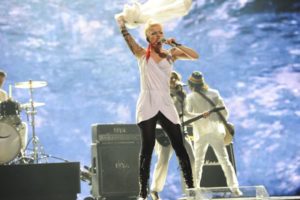 This morning on local morning TV, Bulgarian representative Poli Genova revealed that she will present her song for the 2016 Eurovision Song Contest on the 14th of March. She also told a bit about what we can expect from it.
In the previous week BNT, the Bulgarian broadcaster announced that they had internally selected their 2011 participant Poli Genova for a second Eurovision attempt.
Today during BNT's morning show Denyat Zapochva (The day begins) broadcast on BNT1, the Bulgarian entry was not presented to the public as a lot of sites reported yesterday it would be, however Poli revealed some important details about her song.
First of all Poli said that her song will be uptempo and in English, so everyone can understand it. She admitted that her second Eurovision participation is a dream that comes true. She has been working for this since 2011, and she hopes that this time she will perform her song at least twice (semi-final and final). The biggest difference between her two participations is that she is more experienced now.
Poli was asked about her Junior experience as well. She spots a completely different atmosphere in the Junior contest than in the Eurovision Song Contest, more relaxed and sincere, although both of them are awesome.
Junior and adult #Eurovision are very different according to Poli. pic.twitter.com/7PqlqP2Oka

— Eurovision Bulgaria (@bg_eurovision) February 22, 2016
As we are waiting Poli's song we've put together some of Bulgaria's Eurovision highlights from 2010 to 2013 in a video for you. Included are some rarer clips which you might not have seen before, also of Poli Genova and her first Eurovision entry Na Inat.