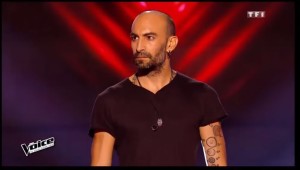 Francois Micheletto, lead singer of Minus One, the pop/rock band that will represent Cyprus in the upcoming Eurovision Song Contest is currently occupied with more than preparations for the contest in May. Yesterday he passed through from the Blind Auditions in The Voice of France.
Tomorrow is the day that Minus One will present their Eurovision entry. Alter Ego will be revealed during the news in CyBC at 19.00 CET. However Francois Micheletto found the time to travel in Paris and compete in the fifth season of the popular programme The Voice of France.
Francois who is half French as his father is from France made one chair turn, and has joined the team of Florent Pagny.
Bruno Berberes (Fomer French Head of Delegation) who was a member of the jury last year in the Cypriot Eurovision Song Project saw Francois who was a contestant with Minus One and their song Shine, and invited him to take part in The Voice of France. With a dynamic performance of U2's song With Or Without You Francois qualified to the next round of the show.
Watch his performance in the below video:
It is no surprise that Eurovision participants have used The Voice as a platform to start their career, but it is seen before also that some has during or after their Eurovision experience taken part in the popular talent show in various countries. A few examples are Elnur Huseynov in Turkey, Niña van Dijk, one third of Treble in Netherlands and Antonio José in Spain.
As we are waiting to hear the Cypriot entry for Eurovision 2016, you can enjoy highlights from Cyprus in the Eurovision Song Contest. There might be some clips you haven't seen before.