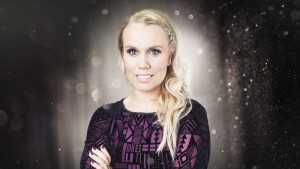 Tonight in Reykjavik, RUV presented the Söngvakeppnin 2016, to choose who will represent Iceland at the Eurovision Song Contest to be held in Stockholm, Sweden on May 10th, 12th and 14th. Six competitors took part hoping to be the act who will bring the trophy home to Iceland for the first time.
Iceland will perform in the second half of the first semi final this year, which will be held on May 10th.
The Songs
Greta Salóme Stefánsdóttir –  Hear Them Calling
Greta has been paying attention to what's been doing well in Eurovision lately. Vocals inspired by Ilse DeLange, theatrics like Mans, dance routine like Loreen, it was too dark to see if she was sporting a beard. What an opener and what a performance. The rules of the competition say that the song must be sung in the language the artist will use if they win, and Greta is one of five acts performing in English. Very professional and well rehearsed, the song has a country feel with a pounding drum to it, and great accompaniment from the backing vocalists. Two thumbs up. Greta made the mistake of having a false ending.
Erna Hrönn Ólafsdóttir & Hjörtur Traustason – I Promised You Then
No hesitation before right in to song two, as soon as Greta finished. This is a very powerful duet. Female vocals for the first verse looking straight into the camera. Iceland mean business. The male vocalist comes in for second verse, accompanied by a pounding guitar. Great chorus again, with the two voices in unison. The only issue was the chemistry between the two of them was lacking a little, perhaps they had an argument before coming on stage.
Karlotta Sigurðardóttir – Eye of the Storm
This starts a bit like Rolling In The Deep and stays very close to its medley all the way through. Dressed in a shiny gold one piece, this wasn't quite as good as the previous two acts, but certainly was no disgrace either. The drum banged all the way through the song, leading to its big ending. They have some good singers in Iceland this year.
Þórdís Birna Borgarsdóttir & Guðmundur Snorri Sigurðarson – Ready to Break Free 
This acts name takes up a lot of space. It starts with Þórdís singing what seems to be gentle ballad by the piano. As she sat in her red dress, her peace and quiet was interrupted when Guðmundur came in with a noisy heavy rap. Not sure if this kind of mix worked, but full marks to them for trying something a little different. Towards the end it was chaos.
Elísabet Ormslev – Á ný
The only song sung in Icelandic tonight. It was a nice slow piano ballad with Elísabet standing at the microphone in her lacy black dress. Some drums came in towards the end to lift the song a little. It may stand out due to being in a different language. Greta wrote this song along with Elisabet.
Alda Dís Arnardóttir – Now
A good up lifting last song, it has a very similar feel to Greta's opening number, so it made a good book end. However Alda was an ice maiden all dressed in white, while Greta went all for black. A five piece backing band played along in the background keeping the song stomping along. This is the type of pop song that Iceland like to send to Eurovision with a good shouting chorus. All in all a good job from all competitors.
The Show
The show was hosted by Ragnhildur Steinunn Jónsdóttir and Guðrún Dís Emilsdóttir, and was held in the Laugardalsholl Arena. The show started with a medley of some of Iceland's past entries. What an exciting way to start, seeing Inga, Pall, Greta, Sigga, Selma, Birgitta and all the old favourites again – if only it could have gone on all night, but a contest was a-waiting. Icy closed the medley with all the other artists and left you wondering, why has Iceland never won the contest. This was great stuff.
The first special guest was Sandra Kim, the Belgian winner from 1986, the year Iceland first participated. Icy showed no hard feelings towards her. Dressed all in black Sandra sang a more modern version of her classic J'Aime La Vie.
María Ólafsdóttir  was next singing an acoustic Icelandic version of Unbroken. Great to hear it again. She then followed it with a new song that the Icelandic audience seemed to know well.
During the reprise, the songs seemed to get better and better with each showing. After the first set of voting, some of the songs from other countries, already qualified to the Eurovision Song Contest 2016 were previewed.
After the head to head, the new queen of Eurovision, Loreen appeared to perform yet another rousing version of Euphoria. Of course it had the audience up dancing and hopefully our two winning ladies were paying close attention at this point. Loreen revealed that she heads to Iceland often for some privacy.
The Results
The winner was decided first by 50/50 jury and the public. The top two acts went into a head to head battle.The jury voting in the first round was divided into six voting regions with three members from each area, split as below.
Northwest:
Samúel Einarsson – musician
Bjarney Ingibjörg Gunnlaugsdóttir – vocal teacher, choir leader
Valgerður Jónsdóttir – music teacher
Northeast:
Baldvin Eyjólfsson – music teacher
Lára Sóley Jóhannsdóttir – violinist, singer
Þórunn Gréta Sigurðardóttir – composer, chairman of the Composers' Association of Iceland
South:
Stefán Þorleifsson – musician
Jóhann Morávek – principal of the East County Music School
Sigrún Gróa Magnúsdóttir – piano teacher
Southwest:
Ólafur Páll Gunnarsson – radio presenter
Erla Ragnarsdóttir – singer
Eiður Arnarsson – musician
Reykjavík North:
Björn G. Björnsson – stage artist, musician
Margrét Eir Hönnudóttir – singer
Védís Hervör Árnadóttir – singer
Reykjavík South:
Kamilla Ingibergsdóttir – Of Monsters and Men support member
Kristján Sturla Bjarnason – musician
Gissur Páll Gissurarson – singer
The jury were all over the board with their scores, which were announced rather swiftly.
They preferred Now and Á ný.
With the jury and public vote combined, at this point the votes were:
| | |
| --- | --- |
|  Hear Them Calling | 20869 |
|  I Promised You Then | 16473 |
|  Eye of the Storm | 19530 |
|  Ready to Break Free | 16466 |
|  Á ný | 16086 |
| Now | 22897 |
The top two acts were Alda Dís Arnardóttir and Greta Salóme Stefánsdóttir.
Finally after reprising their songs, the public voted again and declared Greta Salóme Stefánsdóttir as the winner. Congratulations.
Greta Salóme in come back for Iceland at #Eurovision – do you like the song?

— EuroVisionary (@EuroVisionary) February 20, 2016
Below you can watch the performance from tonight's final in Iceland:
Iceland In The Eurovision Song Contest
Iceland, despite celebrating 30 years of the Söngvakeppnin and Eurovision Song Contest have appeared 28 times, having had to miss out in 1998 and 2002 due to prior year poor results.
Let's not dwell on that though, and join in the celebration recognizing Iceland's two second places in 1999 with Selma and All Out Of Love, and then, ten years later, the lovely Yohanna with Is It True in 2009.
Stjórnin came next closest to winning in 1990 with the bouncy Eitt lag enn which finished fourth. Similar members of that band came 7th, two years later with Nei eða já as part of Heart2Heart. The only other top ten placing Iceland received was in 2003 when Birgitta came 8th with Open Your Heart.
Last year the inspirational Unbroken by María Ólafsdóttir failed to reach the finals, after an unbroken seven years of qualifying prior to this.
Below, enjoy highlights from Iceland in the Eurovision Song Contest with exclusive content that you may not have seen before.