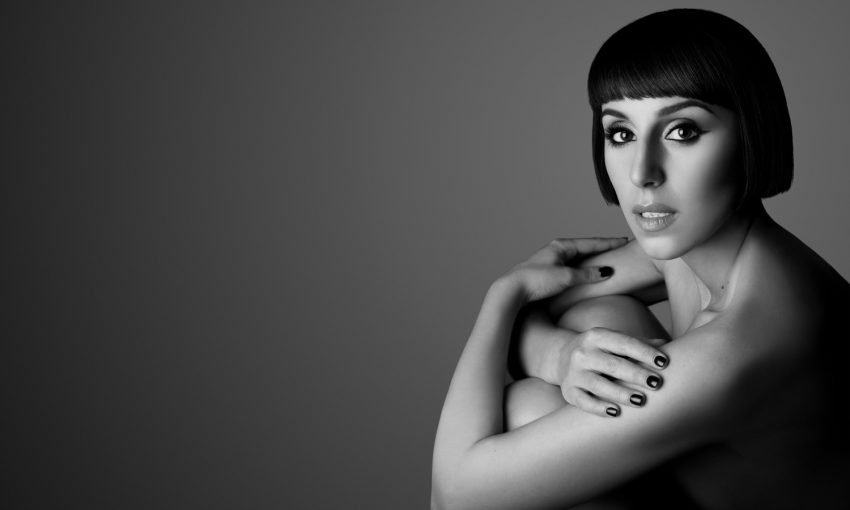 Minutes ago, Jamala was crowned the winner of the Ukrainian national selection and as such will represent the country at the 2016 Eurovision Song Contest. Six acts were battling it out in a great final which had two former Ukrainian participants in the jury.
After two semi-finals held in the previous two weekends, Ukraine was now ready for a national final with six participants fighting to represent the country at this year's Eurovision Song Contest held in Stockholm, Sweden in May.
From first semi-final we had The Hardkiss, Jamala and Brunettes Shoot Blondes.
From second semi-final came NuAngels, Pur:Pur and SunSay.
The songs
Brunettes Shoot Blondes – Every Monday
This is quite the indie sound from the four piece boy band, consisting of two guitarists, keyboard player and drummer , with two female backing vocalists. The band say they are often considered to be British or American. The props have come out in Ukraine, they were standing high on a bit of a precarious metal construction. The song was very listenable and all three judges were pleased with their performance, although they did say that if they do not win this year, they should try again next year,
NeAngely (NuAngels) –  Higher
There's no messing with these low voiced female singers. The song is a pop song with pieces of EDM thrown in. The four piece backing group give it a very Melodifestivalen feel and the song ends on a high for maximum applause. It was confirmed the song was recorded in Stockholm. However they group were chastised by Ruslana for not featuring enough of  a Ukrainian feel. Dressed in white and light pink, which they  were complimented for, instead of dark black, these angels knew how to hit all the right notes.
The Hardkiss – Helpless
A lot of work has gone into this one. The six piece band were a very powerful presence. It's a very slow and sad song, but the singing is haunting and perfect. It's songs like this, that may not get to the final, but they deserve to be heard again. A bleak affair but very listenable. Dressed like an ancient Greek warrior, the stage was illuminated in blue and red lights. Andrei mentioned that the group would be a good choice for next year, although Konstantin did say he wants the group to represent Ukraine now.
Jamala – 1944
The favourite going into the contest and already widely known to be about  the deportation of Crimean Tatars from Crimea. A lot happens in this song, a Balkan feel intro, a slow morbid first verse, then the tempo lifts. Partly English and partly in Crimean Tatar, there's lots of wailing and screaming but somehow this whole mixed bag of everything, really works. Jamala has a low soothing voice. The background was all flaming fires, while Jamala stood in a glowing circle, dressed in a cream coloured flowing dress. Ruslana was genuinely deeply moved by the song's lyrics, but feels this song really represents Ukraine's place in the world at this time.  However the other judges though were actually very negative in their critique of the song and staging.
SunSay – Love Manifest
It was mentioned at the start of the show that this song had been uploaded to youtube and make have broken the rules. However the EBU have stated the song was seen by so few people, it is eligible to compete. However despite this the judges then spent nearly 20 minutes discussing whether the EBU were right to make this descision.
This has the catchiest chorus in the whole competition. Although you think it's going straight too it after the introduction, there's a couple of verses to get through first, but after that, it's sing a long all the way. Another potential good entry and the audience loved it. SunSay claim they have never seen the Eurovision Song Contest before and only entered as an experiment. The poor guy stood squirming in front of the judges for nearly half an hour, and was possibly regretting his decision.
Pur:Pur – We Do Change
Finishing with a fashion statement, but this one's no joke entry. The song is a gentle ballad with very strong instrumentation behind it.The three piece, two male, one female group call themselves an indie band. The singer started out in what seemed like a huge ball of string, but then came forward on the stage to complete the song, while wearing what looked like a transmission receiver on her head. It was a mix of slow metallic gentle noises which was described as very pure, thus the bands name. An acapella version solely for the judges was actually better.
The show
The Ukrainian final kicked off at 18.00 CET and for international followers a stream on YouTube had been provided. The show was hosted by Dimitri Tankovich and Aleksander Pedan who also hosted the two semi-finals.
A brief montage of past Eurovision favourites opened the show, of course including Ukraine's only winner Ruslana, who was then introduced with the other two judges, Andrei Danilko and Konstantin Meladze.
The show was very positive, uplifting background music and a lot of fun chemistry between the judges and hosts. However it was also very clear that Ukraine have every intention of taking the task of finding a suitable entry very seriously.
Each artist and song were given a  very thorough analysis from the three judges, Ruslana stating that the judges can never win, because if they critique too softly, no-one learns, but if they are too harsh, fans are complaining about their nastiness.
After an hour long voting break, Nicky Byrne was the special guest and he performed Ireland's 2016 entry Sunlight, which Ukraine will meet in the second semi final.
The result
The decision about who should represent Ukraine at this year's Eurovision Song Contest was made by 50% televoting and 50% jury. In the jury we found two former Ukrainian participants; Ruslana the winner from 2004 and Andrei Danilko aka Verka Serduchka who represented his country in 2007. They formed the jury tonight together with producer and composer Konstantin Meladze. Over 382,000 members of the public voted. If there was a tie, the public choice would prevail.
| | | | | |
| --- | --- | --- | --- | --- |
| |  Jury | Public | Total | Place |
| Brunettes Shoot Blondes | 1 |  1 |  2 |  6 |
| NeAngely (NuAngels) | 3 |  2 |  5 |  5 |
| The Hardkiss | 6 | 5 |  11 |  2 |
| Jamala | 5 | 6 |  11 |  1 |
| SunSay | 4 |  4 |  8 | 3 |
| Pur:Pur | 2 |  3 |  5 |  4 |
Ultimately Jamala received the most combined votes and will represent Ukraine in the Eurovision Song Contest 2016.
Do you like the Ukrainian #Eurovision song by @JAMALA_OFFICIAL

— EuroVisionary (@EuroVisionary) February 21, 2016
Below you can watch Jamala's performance
Ukraine at the Eurovision Song Contest
It is one of the most succesful Eurovision countries who picked their winner tonight. They joined the contest in 2003 and have never failed to miss the qualification from semi-final to final. 8 of their 12 Eurovision appearances ended in a top 10 placement.
Ukraine won the contest once, in 2004 when Ruslana and her Wild Dances took Europe by storm. They didn't participate at the 2015 contest, so their last act dates back to 2014 when Mariya Yaremchuk came 6th with the song Tick-Tock. That song, and other Ukrainian entries you can watch again in our highlight video where we included some rarer clips as well. Please enjoy.