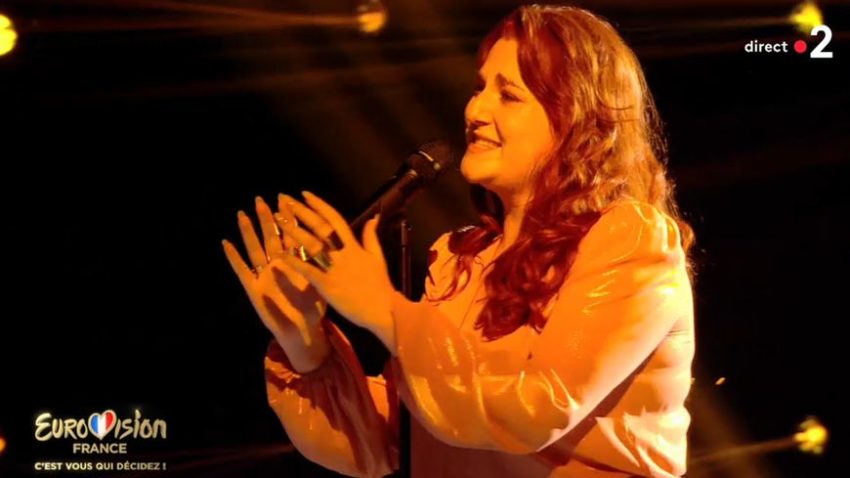 Juliette Moraine had a great song in this year's French national final. It was full of emotions and some fans would prefer it to the winner Barbara Pravi's entry. Did France make the right choice?

After 2020, when France chose internally Tom Leeb, it went again for a national selection in 2021. There were 10 contestants and the variety of genres was really wide. Juliette Moraine together with Barbara Pravi brought a typical French chanson full of emotions, and it seemed that the French audience and international juries agree that this is what France should send to Eurovision.
After the jury voting, Juliette was on second place behind Barbara Pravi with 76 points. In televoting, Juliette was only fourth, but both votings combined, Juliette secured her silver position in the 2021 French national final.
Juliette Moraine wrote her song together with Rémi Portat.
Pourvu qu'on m'aime – opinions from fans
In order to find out what Eurovision fans today think of this year's French national final entry, we asked our Eurovision Fan Panel. It includes team members as well as fans from all over the world.
Olivier R. – Juliette was the good surprise of our national selection show. She conquered the whole jury (especially Duncan Laurence). Her song reminded me a lot of Seemone, the artist who came second in Destination Eurovision 2019. It was classy and very emotional (for those who could understand the lyrics). In the same vibe as Voilà.
Josef Š. – I always loved French chansons, so it was no surprise Juliette together with Barbara were my favourites in the selection. It's perfectly sung in French and with so many emotions. It is also very easily recognisable that Juliette has a musical theatre background, so it has also a bit of theatrical atmosphere.
Eric O. – Wow, I truly wish France was sending this song to Eurovision! What an incredible voice and beautiful song! It really hit me immediately. Too bad we won't get to see it on stage in Rotterdam. The winning song however is so boring, but apparently very popular with the Eurovision fans, as the bookmakers do give it a good chance of winning. We'll see what happens, but if it's for me, I don't think we'll go to Paris next year.
Charlotte J. If France had picked this song instead of Barbara Pravi, they would have made a mistake. Juliette sings well, the orchestration is nice too, but it's too boring. While I don't mind it as a nice song to have on in the background, I lose attention if I am to focus on. Within no time, I will have grabbed my phone to see what's going on online… And after the song, I forget it immediately. There's basically nothing which makes me remember this one.
John D. – I love this song and much prefer it to Voila. It is a very traditional French entry that did so well in the past, but alas hasn't been sent too often except for 2009 when, in my view, Patricia Kass was robbed. The great French entries of 2001 and 2002 should also have been placed higher. It's great to see that this genre is still being offered as a possible representative and that the French haven't lost hope of it returning.
Alvaro S. – Together with Barbara's winning song this was one of my favourite songs from the French selection. However, I think that Barbara's song has a more emotional impact to the audience when they were performing on the national final and that made the difference. This song and its lyrics are great without a doubt.
Enis H – I prefer Pourvu qu'on m'aime. I feel Juliette's passion through the song. It's the kind of French ballad I love. Voila on the other hand, feels bland and doesn't go anywhere.
Tina M. – A timeless song. The song Pourvu qu'on m'aime is beautifully sung by Juliette Moraine. However, I think it lacks a bit of power or drama in the chorus, as the song may well seem a bit monotonous in the long run. The song is OK for me and I will give it 5/10 Compared to the French contribution to this year's Eurovision, the winning tune has this very dramatic interlude that I wanted for in Pourvu qu'on m'aime, but the winning song does nothing to me – it just seems annoying.
Pascal W. – This was one of my favourites from France's national selection. Her voice is so fragile and powerful at the same time. I get goosebumps every time I listen.
Michael O. – I was quite shocked to see this do so well in the French contest, There were so many more songs that I liked. However, since so many find it appealing it must have something, but I get a little bored with it.
Enjoy Juliette Moraine's performance from the 2021 Eurovision France, c'est vous qui décidez in the embedded video. Below the video, you can read more about her.
Juliette Moraine – a mini biography
Juliette Moraine is a young French singer and musical theatre actress. She comes from the department of Yonne, which is in the region Bourgogne-Franche-Comté. She was singing from her early youth and always wanted to become a professional singer, which really happened, so Juliette's dream actually came true. Besides singing, Juliette can also play the cello.
She graduated in Bourgiogne and went to a study trip to the USA where she in the age of 17 discovered a musical theatre – she was in Hanover (New Hampshire) and played in local productions of Grease, Beauty and the Beast or The Phantom of the Opera. When Juliette returned to France, she started her studies in Paris on a musical theatre school. Her first lead role came in the age of 22. That gave her a good base for a future career. She also wanted to make her own album, but wasn't completely sure what to do. She is well known for her role of Nanny in a musical Romeo & Juliet. Nanny is like a second mother to Juliet which suits Juliette really well as she's also a mother.
In 2014 / 2015, Juliette Moraine was taking part in the third season of The Voice France, where she was a member of Florent Pagny team and managed to make it through to the quarterfinals. In 2021, she plans to finally release her debut album.