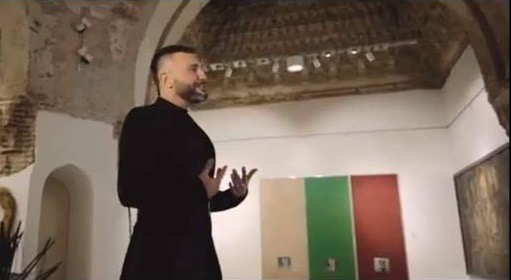 Eurovision was meant to be apolitical. Lately, it's been anything but. North Macedonia was forced to edit the official video for this year's entry "Here I Stand" because of a piece of the artwork in the video which looked like the Bulgarian national flag.
This week, the EBU asked Belarus to rewrite their entry, find another song, or face disqualification, because the original entry called I'll Teach You appear to mock protesters who have taken to the streets against Belarusian President Alexander Lukashenko.
Yesterday, this year's Macedonia's representative Vasil Garvanliev announced that he has edited the original video for his entry Here I Stand due to controversy about a piece of art in the video which looks like Bulgaria's flag. For many years there have been controversial historical and educational issues between the two countries that still need to be discussed and solved. However, the critics that forced Vasil to edit the original video come from some North Macedonian's, who accuse the artist to have used the Bulgarian flag on purpose as he allegedly previously has stated that his grandmother was born in Bulgaria, which is the reason why he also has a Bulgarian passport, and that Bulgaria and North Macedonia are the same country just divided by a border.
Dear all,

Although with the Eurovision video I had a desire to showcase nothing but music and art, I am truly sorry for the misrepresentation of the work of our famous artist Žaneta Vangeli. No one involved in the realisation of the video filming nor representatives of the stated institution deliberately intervened in the artistic setting of the National Gallery Daut Pashin Amam. The gallery itself stated that the work has been exposed like that for many years. In order not to have additional negative implications and a misplaced display of this artwork, we have decided to remove the cadres pertaining to it.

Thank you for the overwhelming support you are giving me these days, and because you believe in my sincere intention. I have been singing and representing Macedonia and the Macedonian flag for over 20 years, and it will remain.

I love you,
Vasil Garvanliev
In the link below, you can watch the edited music video which has been re-uploaded to the official Eurovision Song Contest YouTube page.