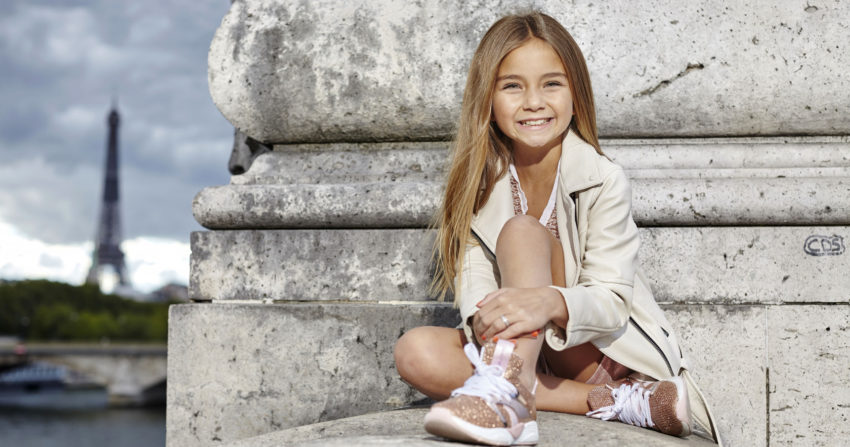 Where many Junior Eurovision participants perform songs with many fans think are 'too adult-like', that's not the case with 11 year old Valentina representing France. She is even mentioned as a candidate to win the contest.

Valentina Tronel comes from Bretagne and she's 11 years old. Already when she was 6, she took part in the French version of TV show The Voice Kids. She auditioned with an Italian song by Laura Pausini, but did not succeed as none of the coaches turned their chair. In 2018 Valentina participated in a project called The Tremplin 2018. She later became one of the members of a child pop group Kids United Nouvelle Génération. She performs with the group still today.
This year, Valentina was chosen internally as the French representative for the Junior Eurovision with a song J'imagine. This song was composed by Igit and Barbara Pravi, who already stood behind French song from 2019 Junior Eurovision Bim Bam Toi. Igit also took part in French national selection for Eurovision in 2018.
J'imagine – opinions from fans
In order to find out what Eurovision fans today think of this French Junior Eurovision 2020 entry, we asked our Eurovision Fan Panel. It includes team members as well as fans from all over the world.
Olivier R. – Since it's come-back in 2018, France has followed the same recipe by not sending any song that could compete in a Eurovision competition, but an entry that is tailored made for a junior audience, and it works. J'imagine is fresh and entertaining, and it is also a very French tune that should do well on November 29th.
Josef Š. – I loved France already in the previous two years, and 2020 is no exception. Valentina is a really cute young singer and her song J'imagine is full of positive energy and fun. That's actually the essence of Junior Eurovision. Exactly what I would expect from a child song at this kind of competition. Even though we like those adult-like songs, there should be more songs in Junior Eurovision like J'imagine.
Stine F. – I think it is a charming song, and it is so nice to hear the French language – although I don't understand it. The girl sings well and spreads joy through her music video.
Charlotte J. – If I am to place a bet on a Junior winner this year, it would be France. The song is rather cute, Valentina is adorable and this is the kind of song, which I would guess will do well with children as well as the adults watching. Forget about the many children singing an adult song, this French entry is what a Junior Eurovision Song Contest entry should sound like. Not my personal favourite though.
Mária P. – This is really a suitable song for the Junior Eurovision. A song for kids, sang by a girl who acts like a girl and not like an adult. In addition the song is pleasant and it conveys joy, and the girl is charming and sings really well. I also like the fact that they deliver a song with the title in their language and sung entirely in their language. In my opinion France would be a fair winner.
Michael O. – France have mastered the art of sending catchy kiddies songs to Junior. This is another good attempt which should prove popular with fans.
Enis H. – For some reason it reminds me of last year, but I think its alright, I'm not the biggest fan of the song or her voice.
Wouter V. – Valentina is clearly having the time of her life in the video, which lifts a somewhat simple and silly song to something actually quite enjoyable. J'imagine carries an important message as well, which I hope reaches an audience of mostly non-French speaking children. You may say she's a dreamer, but she's not the only one.
Martti I. – France selected a talented girl with quite an potential entry. Catchy elements exists and the video makes me wonder how it will be shown on stage and that worries a bit. The song is quite interesting as it reminds of songs in Eurovision as they were a few decades ago.
Alvaro S. – I like that this song shares the spirit of a kid's festival with a positive sound. The music video is a little bit cliché with this group of kids super happy acting as if they are the cool happy friends. Overall I would like to see more songs like this but it may end in the middle of the scoreboard because after the second half it became repetitive.
In the video below, you can listen to Valentina's entry J'imagine. Below the video, you can read more about France at the Junior Eurovision Song Contest.
France in the Junior Eurovision
France has short history in the Junior Eurovision, even though we saw French debut already in 2004. Back then, France took a sixth place and withdrew from the contest to come back after 14 years in 2018.
The come back was a huge success. Angelina was one of the favourites and lost only by a small amounts of votes to Poland. Last year, Carla with her song Bim Bam Toi was also one of the possible winners but in the end she took only fifth place.
Valentina is this year, third girl in a row to represent France at the Junior Eurovision.