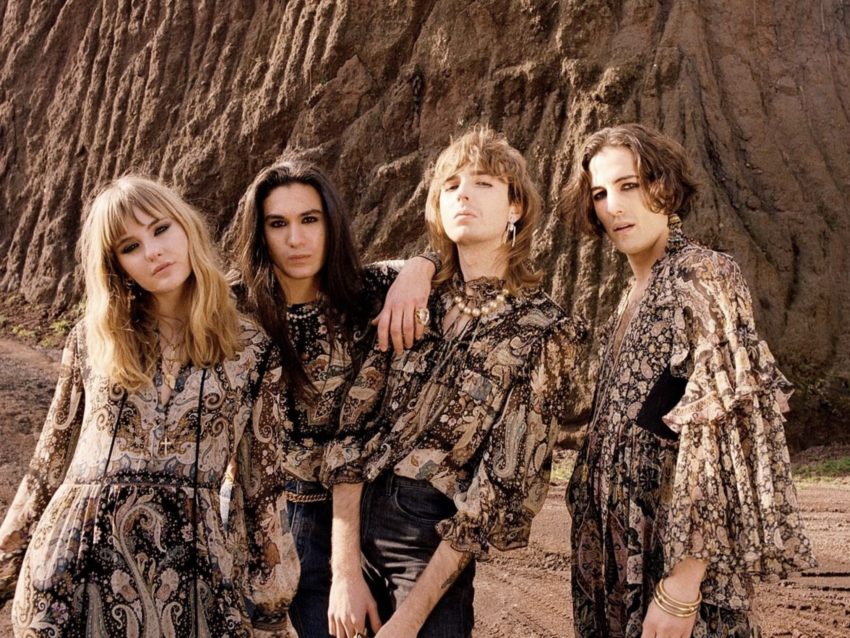 Tonight, the Sanremo festival 2021 was completed, with Måneskin being chosen as the winner. It is expected that they will go on to represent Italy at the Eurovision Song Contest, to be held in Rotterdam in May.
This year's edition of the Sanremo festival was held at the Teatro Ariston in Sanremo, and as usual was organised by Italian Television (RAI). The main difference this year was that were very limited audience members, due to the on-going COVID-19 crisis.
The show was hosted by Amadeus, comedian, Fiorello and a bevy of lady models. Tonight was the last of five evenings where 26 performers showcased their latest songs in a bid to win the festival.  As a side line, the newcomer award was also presented. This went to Gaudiano, who performed his winning song, Polvere da sparo, again tonight.
Two former Italian Eurovision participants took part this year. Francesca Michielin, who represented Italy in 2016, appeared tonight, in a duet with Fedez. Ermal Meta, who represented Italy in 2018 with Fabrizio Moro, appeared solo tonight.
The winner, it is presumed will head to Rotterdam in May to represent Italy, in the Eurovision Song Contest final, but also has the right to decline the offer.
The Songs
Ghemon – Momento perfetto (Perfect Moment)
Tonight's opening number sounded as if it was slightly influenced by Mahmood in places. Ghemon, appearing at Sanremo for the second time, sort of swanned about the stage to a big brass accompaniment. A bit of rapping and a mix of jazz was how you best describe the song.
Gaia – Cuore amaro (Bitter Heart)
This song has a more Spanish or Portuguese feel rather than Italian. Gaia, the Italian X-Factor season ten winner, sashayed her way around the stage in a very appealing way. This is thought to be one of the favourites and has a Eurovision entry feel about it.
Irama – La genesi del tuo colore (The Genesis Of Your Colour)
Irama is usually a pretty good bet, and this song is up with the leaders, but this isn't nearly as good as some of his songs from the past, like The Girl With The Tin Heart. Obviously in lock down he's never been to the barbers for quite a while. All in leather, the song ia a bit of mess in places, when he's singing into a vocoder, probably miming at these bits. When the chorus gets going it's a bit better.
Gio Evan – Arnica
Gio had the best hair of the evening. His costume also was like stained-glass windows, if you could take them down from a church and wear them. The stage antics were hardly necessary, and the song sounded a little manic in places, so whoever Arnica is, not sure if they were impressed.
Ermal Meta – Un millione di cose da dirti (A Million Things To Tell You)
Ermal, of course represented Italy at the Eurovision Song Contest 2018 in Lisbon, Portugal. Despite heading into the show tonight, in the lead on the scoreboard, the song isn't that extra special compared to some of the others. It is indeed very well sung, and Ermals' experience on stage shows. At this point it is the favourite to win, so time will tell.
Fulminacci – Santa Marinella 
With his guitar, this is more the type of sound you imagine walking along the Seine in Paris. Fulminacci was in red, white and blue, probably coincidental, but it helped to give that atmosphere. A backing group added depth to the chorus, but in parts, the song was a little plodding, which probably just means it isn't quite Eurovision material.
Francesco Renga – Quando trovo te (When It Finds You)
The vocals on here sounded a bit echoey and had a bit of a creepy feeling about it, in the verses. The chorus was more shouting, and wasn't quite as memorable as some of the others in the contest.
Extraliscio feat. Davide Toffolo – Bianca luce nera (White Black Light)
With its electronic sound at the beginning, this clearly was going to be something experimental. A masked singer, a man in goggles, a dancing clarinet player were on stage to distract from the nonsense song. Quite the mix, oh gee, and salsa dancers as well. you can blame Mirco Mariani, Moreno il Biondo and Mauro Ferrara.
Colapesce and Dimartino – Musica leggerissimal (Lightweight Music)
This is, as it says, very lightweight music, but it's perfect. A cross between Simon and Garfunkel, and Ricchi E Poveri, and the whole package works really well. The vocals are quiet but just what the song needs. A nice summery breeze sound of a song, and quite enjoyable. Both guys are solo artists, Lorenzo Urciullo and Antonio Di Martino.
Malika Ayane – Ti piaci così (You Like Yourself Like That)
Silver haired Malika has a song with a distinct dance beat, but sings in the cursive style that some find annoying. This would have benefited from having some backing dancers. Malika did well but the lack of a large stage, on this occasion was a hindrance.
Francesca Michielin and Fedez – Chiamami per nome (Call Me By My Name)
Francesca, who represented Italy in 2016, looks quite pleased with her performance in this, while Fedez, of course does his best to be as moody as possible. For two great artists this isn't quite the special matching you are perhaps hoping for.  The auto-tune is clearly on display here which is quite horrific to watch. Mahmood wrote this song.
Willie Peyote – Mai dire mai (La locura) (Never Say Never)
This song has the best dance beat of the evening, but horror of horrors, starts very much like that rap song Denmark sent to Eurovision in 1997 by Kølig Kaj. A bit of rapping, a bit of singing, and some shouting tie up the whole song. Willie's real name is Guglielmo Bruno.
Orietta Berti – Quando ti sei innamorato (When You Fell In Love)
This is good old fashioned Italian standard type music. Sung with every bit of emotion that an amazing 77 year old Orietta could get out of the song, this is a throwback right to the fifties. Totally unsuitable for Eurovision, but perfect in the Sanremo setting.
Arisa – Potevi fare di più (You Could Have Done More)
This is an Italian ballad at its very best, every single note meant, and a wonderful orchestral accompaniment. The song builds and builds as it progresses. Arisa will need a seat for a rest, by the time she finishes emoting. Wow.
Bugo – E invece sì (Instead..Yes)
This song was a bit of a downer to begin with, but picked up quite a bit with the trumpets in the more powerful chorus. Bugo was a pretty good singer but seemed to lack stage presence.
Måneskin – Zitti e buoni (Quiet And Good)
This rock band would certainly have woken an audience up. The violinists in the orchestra were working really hard to keep up with the band. A solid performance and pleasing if this is your type of music. The group is made up of members, Damiano David, Victoria De Angelis, Thomas Raggi and Ethan Torchio. They formed in 2015.
Madame – Voce (Voice)
Not every song can be perfect, and this missed the mark just a little bit. The song was very wordy and although Madame handled it well, it wasn't as appealing as some of the previous numbers. No shame in the performance, but not a winner. Madame is Francesca Calearo.
La Rappresentante di Lista – Amare (To Love)
This group's music is described as progressive rock, but that's very misleading as the start of the song is a very fragile like ballad. True enough it burst into flames in places, but it could be described as anthem like pop. Again full of Italian feeling, another good effort. Despite their being more people on stage, only Veronica Lucchesi and Dario Mangiaracina claim to be in the band.
Annalisa – Dieci (Ten)
Red head Annalisa sang a song typical of the drama, Italian's do so well. A bit screechy in places but generally pretty well sung. A punchy chorus and with a few listens could get into your head. She deserved her bouquet of flowers. This is her fourth appearance in the Sanremo festival.
Coma_Cose – Fiamme negli occhi  (Flames in Your Eyes)
Only the title of the song, permits the over the top eye shadow worn by the female singer, California, last night, which really pops out of the screen.  Tonight she had it toned down. A sort of modern day Jalisse,  Fausto Lama, the male keyboard player stared lovingly into his partners eyes transfixed, on this modern electro song.
Lo Stato Sociale – Combat pop
Perhaps through the week, the Sanremo competition should eliminate some songs, on the fourth night, then the chances are we wouldn't have to suffer through this in a final, and bedtime could be a bit earlier. A flash back to some poorer new wave bands from the eighties, a cardboard box and that's it. Having said that the performance in tonight's final by Alberto Cazzola, Francesco Draicchio, Lodovico Guenzi, Alberto Guidetti and Enrico Roberto had greatly improved.
Random – Torno a te (I Come Back To You)
Random has quite a powerful voice, performing his piano based ballad, but just misses those high notes. Random is supposed to be a rapper, but there was no rapping evidenced tonight. This has a bit of a chorus you could sway along too, at the end of a ballroom dance.
Max Gazzè and Trifluoperazina Monstery Band – Il farmacista(The Pharmacist)
Max, who last night looked like someone from Harry Potter, has a song whose backing is very much like ex Eurovision contestant Alice's song Il Vento Caldo De L'Estate.  However, the story of the pharmacist is quite enjoyable and would make for an unusual and unique Eurovision entry. A bit of nonsense in a superman T-shirt amid the theatre seats could have been done without.
Noemi – Glicine (Westeria – the flower)
Noemi was spot on with the lower notes in the song, but just seemed to miss the higher ones in the chorus. This is a nice lilting, supposed love song. The camera close-ups were very effective, and the song builds well to end on a high in the chorus. Noemi is also an X-Factor alumni.
Fasma – Parlami (Talk To Me)
Gee more auto tune. who has the nerve to do that on stage, well Fasma does, I guess. That's a bit disappointing as this angry song is actually quite good. Fasma is a rapper normally so that may explain his faux-pas.
Aiello – Ora (Now)
To close the competition, this is a great performance of a rather good canzone, yet the judges aren't seeming to hear it. This is a pretty dramatic performance and Aiello has a great voice, that seems it's going to run out, but instead gets stronger as the song progresses. Excellent.
Tonight's Guests
As per last night Achille Lauro returned, tonight to perform a number with a ballet dancer. Zlatan Ibrahimovic popped in to say hello. Ornella Vanoni performed and a trio of past Eurovision artists, Francesco Gabbani, Umberto Tozzi and Riccardo Fogli performed, since the show wasn't long enough. Michele Zarrillo, Paolo Vallesi, Dardust, Alberto Tomba and Federica Pellegrini and the Navy Band were also on hand to join in on the fun.
The Results
To decide the winner the votes used were assigned as 34% Public televoting; 33% Jury of the Press Room, TV, Radio and Web; 33% Demoscopic Jury.
The top 3 acts were announced and televoting started for each one.
Ermal Meta – Un millione di cose da dirti
Francesca Michielin & Fedez – Chiamami per nome
Måneskin – Zitti e buoni
In third place was Ermal Meta
Second was Francesca and Fedez
The Winner was Måneskin