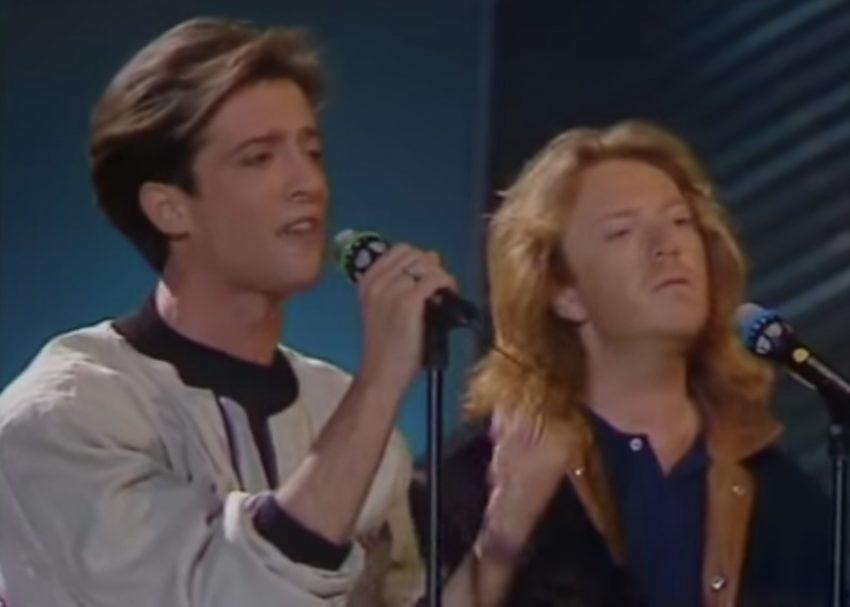 Italy has had a love hate relationship with Eurovision throughout the years. After withdrawing in 1986, Italian Television (RAI) decided to send the duo of Umberto Tozzi and Raf with the song Gente Di Mare.
The singers recorded the duet, not specifically for Eurovision, but RAI, liked it and asked if they wouid head to Brussels, Belgium to perform the song at Eurovision 1987.
Performing 7th on 9 May 1987, as so often happens with Italian entries they either score well or score nothing with the juries. After 7 countries had voted they had 18 points. Portugal and Spain, back to back, awarded it Top marks. Turkey awarded it 8 points, and then it practically was ignored by the next 5 countries. Making a strong comeback towards the end, with maximum points from Germany, Ireland and Yugoslavia, the song ended with 103 points, and a third place.
The song went on to be a big hit in many European countries.
Gente Di Mare – opinions from fans
In order to find out what Eurovision fans today think of this Italian entry from 1987, we asked our Eurovision Fan Panel. It includes team members as well as fans from all over the world.
Michael O. – sometimes I wonder what juries hear. This was far and away the best song in the 1987 contest. No wonder Italy stared to give up, as they were also robbed three years earlier in 1984. A total piece of musical class, it hasn't dated one bit in all those years, Yet another Italian masterpiece.
Christopher D. – What a journey down memory lane. Being a Maltese, neighbours of Italy, we hear a lot of Italian songs. Both Tozzi and Raf are two giant artists with great successes year after year. Gente di Mare remains a great song and one still gladly listens to it when it is playing either on radio stations or social media. Italy once again delivers high quality music.
Gunec G. – This masterpiece by these two legends is one of the most underrated entries in the history of the Eurovision Song Contest.
Steve P. – Over 30 years have passed since Umberto and Raf performed in Brussels, and their song is as popular now as it was then. It isn't hard to see why! I've always liked Gente di Mare, but, as a massive fan of Italian music, it has always lacked something to my ears, possibly the huge string arrangement and the power and emotion of the great Italian songs. Take the country it's representing out of the question, though, and this is a fine three minutes.
Charlotte J. – Does it get much better than this? No, it doesn't. Johnny Logan was a well deserved winner, but it was really a shame that there had to be a winner as this would have been just as deserved. It's a masterpiece and a classic for a reason. I LOVE it.
Frank S. – If there is any song that makes me instantly happy, this is it! A typical Italian song that builds up phenomenally and has this amazing melody! Simply LOVE it! One of my all time favorites!
Josef S. – This is a perfect Italian song. A type of song that works even outside of the Eurovision bubble. And that's what Italy knows how to do today and obviously knew as well in the past already. Very likeable song, and let's be honest, quite handsome singers. I could listen to Gente di mare more often. Simple but still good performance and song.
Jill R. – I was only a child in 1987, so I don´t remember what I thought of Italy´s song at the time. All that mattered to me was Johnny Logan. I still put Hold me now first, but Gente di Mare is a clear second. I love many of the Italian entries nowadays, but back then they weren´t always as good. Gente di Mare is one of the exceptions. It still sounds pretty current. I am very fond of the raspy and passionate voices of Umberto and Raf, and they sound really good together. Their interaction could have been better though, and they look rather static on stage.
Another classic from Italy. I like how the performance os so calmed yet it is almost hypnotizing it makes me want to be there with the audience waving for Umberto and Raf. A beautiful song, specially in the chorus. Very peaceful sound.
Pawel J. – I remember hearing the song on the TV and radio in my home country – Poland quite some time ago. Back then I was in primary school and didn't even know about the contest.
I really like Gente di mare always makes me feel a bit emotional and nostalgic at the same time. It's one of those "close your eyes and relax" type of Eurovision songs.
Umberto Tozzi -a brief biography
Umbeto was born on 4 March 1952 in Turin, Italy. There is no doubt he can be considered one of the world's most successful singers and composers, having sold over 70 million records.
His first major writing success was One Body, One Soul, for Italian Eurovision entrants 1975, Wes and Dori Ghezzi. In 1977 Ti Amo was a huge success. It was recorded by Laura Branigan, who also went on to have success with Gloria, another of Umberto's compositions.
He released seven successful albums between Gloria and representing Italy at Eurovision with Gente Di Mare.
Since Eurovision, he has released another eleven studio albums, along with several live albums and many hits compilations. He appears at the Sanremo festival, now and again, usually to perform one of his songs, in a duet with other artists.
Raf – a brief biography
Raf was born, Raffaele Riefoli on 29 September 1959 in Margherita di Savoia. He got his career of to a great start in 1984, by hitting number one in Italy with his debut single Self Control. This song was also covered and became a huge international hit for Laura Branigan. An album of the same name followed but other English recordings were not as successful.
Raf started to record in Italian in 1987, which brought him more success at home. The same year he teamed up with Umberto Tozzi to record the Italian Eurovision entry, Gente Di Mare.
After this, he became a more popular act in Italy, and has since released 15 albums, the most successful of them being Cannibali, which went multi platinum in 1993, and Iperbole, which did the same in 2001.
His last album to date was Sono Io in 2015, and COVID permitting he is supposed to be touring Italy, this May.