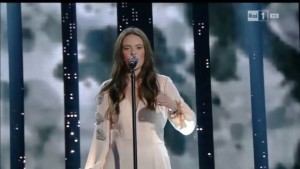 It was almost sure that Nessun Grado Di Separazione would be the Italian entry for the upcoming Eurovision Song Contest with which Francesca finished second at this year year's Sanremo, but we were still waiting for the final confirmation. According to Italian media that has now come, although the language of it still is undecided.
Only a few days after 2016 Sanremo's final, the composer of Nessun Grado Di Separazione which brought a second place for Francesca in the famous Italian music festival, revealed in her facebook profile that this song will be also the Italian entry in Stockholm. No official confirmation though from RAI or the artist herself.
Today Italian media reports that RAI and Francesca agreed to keep the same song for Eurovision Song Contest 2016. It seems that the huge success Nessun Grado Di Separazione had in Youtube with more than 6,2 million views at the moment and being number 1 in the Italian charts and on Spotify, decisively influenced the Italian broadcaster and Francesca in taking this decision.
The only thing that hasn't been decided yet should be the the language that Francesca will sing her song in. Although the young artist expressed her desire to sing in English, RAI considers two options. Either to keep the Italian lyrics, or to use a mixed version of Italian and English lyrics.
Below you can listen the Italian entry for the 2016 Eurovision Song Contest