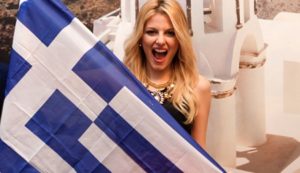 ERT announced minutes ago that they will present Utopian Land, the song that Argo will perform in Globen Arena at the 2016 Eurovision Song Contest, on Thursday the 10th of March at 11.30 CET at a press conference from Studio E of the Greek Radio.
ARGO is the group that was internally chosen to represent Greece in the upcoming Eurovision Song Contest, still work on the video clip of their entry, which is called Utopian Land and refers to refugees and the economic crisis. Next Thursday at 11.30 CET, from Studio E of the Greek Radio, ERT will present for the first time to the public the Greek entry for the upcoming Eurovision Song Contest. Immediately after the end of the press conference, the video clip of the song will be uploaded to Youtube.
ARGO consists of Christina Lahana (singer), Maria Venetikidis (vocals), Vladimir Sofianidis (vocals), Kostas Topouzi (Pontian lyre), Elijah Kessidis (vocals – percussion) and Alekos Papadopoulos (tabor), and is described as a folk/traditional band.
While waiting for the Greek entry you can watch a compilation of the last 7 years of Greece in the Eurovision Song Contest. We did our best to find our greatest footage, and maybe you'll see something you haven't seen before.