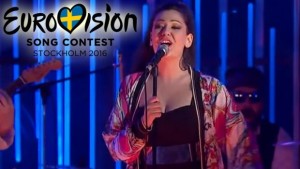 According to Serbian media it will be Sanja Vučić who will represent the country at the upcoming Eurovision Song Contest. The title of her song is reported to be Shelter, it is about violence against women and is going to be performed in English. Broadcaster RTS planned to present the Serbian artist for Eurovision 2016 on the 7th of March.
Sanja is one of those rumored candidates to represent Serbia at the 2016 Eurovision Song Contest. She is the part of the band ZAA. They've published three studio albums till now.
Telegraf reports today that RTS wanted Ivana Peters to represent the nation, but Ivana is now participating at the third season of the show Your Face Sounds Familiar, so they decided that Sanja would be a better choice.
Sanja's song is mentioned to be written by Ivana Peters and the title of the song should be Shelter. If the reports are true, this will be the second year in a row that Serbia will sing in English.
RTS will officially present the Serbian artist for the 2016 Eurovision Song Contest on the 7th of March from their studio in Kosutnjak, as we have already reported yesterday, while the song itself is to be revealed five days later on the TV show Cheers Serbia For Europe.
Serbia in the Eurovision Song Contest
Serbia have appeared at the Eurovision song contest seven times, debuting as an independent country in 2007 and winning on it's first attempt with Marija Šerifović and Molitva. Since then, the other half of their entries have finished in the top ten with Željko Joksimović and Nije Ljubav Stva doing best in third place.
Last year, after missing out of the 2014 contest, Bojana Stamenov sang Beauty Never Lies, the first Serbian entry to be sung in English.