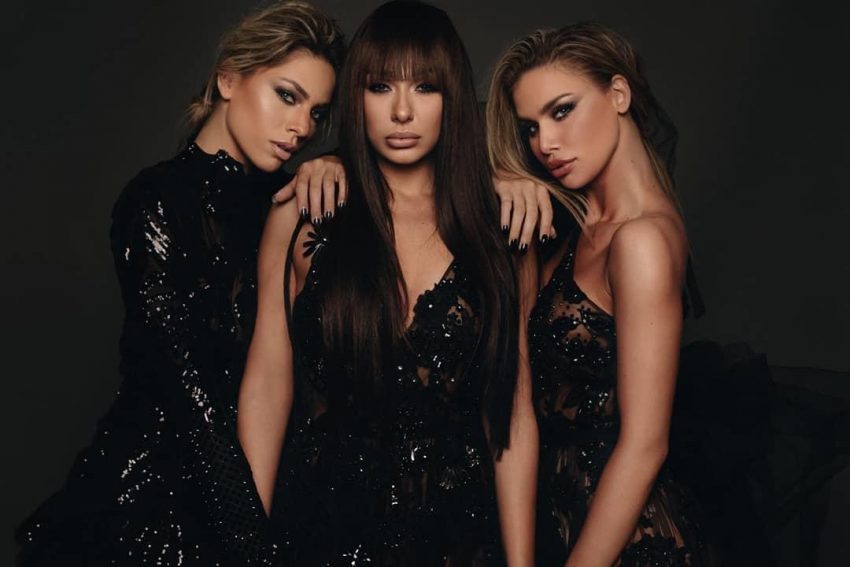 Hurricane represented Serbia at the 2021 Eurovision Song Contest. There's much more to these girls than just their 'Loco Loco entry'. Here we put focus on the song 'Folir'o' released last summer.
The single was released on the 18th of August 2020, after the 2020 edition of the Eurovosion Song Contest was cancelled due to Covid-19 pandemic, for which the band was chosen to represent Serbia with Hasta La Vista.
The girls basically make up-tempo modern pop songs sometimes with ethnic Balkan flavour. However, Folir'o is a little different from those party tunes we are used to hearing from them. We can sense the ethnic flavour a little more in this single with the vocal technics of the girls. The video itself has nearly 40 million views, which is quite impressive. After this single, the girls had the honour of being selected for the second time to represent their country in Rotterdam, the Netherlands for the 2021 Eurovision Song Contest.
Folir'o – opinions from fans
In order to find out what Eurovision fans think of this song from Hurricane, we asked our Eurovision Fan Panel. It includes team members as well as fans from all over the world.
🇩🇰 Charlotte J. – This is completely different from Loco Loco. I would never have guessed that it's the same group. I like the chorus in this one, but unfortunately the verses gets nowhere.
🇹🇷 Gunec G. – What I liked most in this song is the ethnic Balkan vocal technique the girls are using in some parts of the song. I think the girls are not only sexy party girls, they are excellent vocalists. I think many would agree that they have  starlight. The song has a little lower tempo than their songs we are used to. And I like it.
🇩🇰 🇳🇱 Wouter W. – This is very unoriginal Balkan pop, and as such I really don't mind listening to it. But to say that I like this might be taking it a step too far. I wasn't a fan of Loco Loco, Folir'o is quite a lot better, but I'd still prefer almost every other well produced Balkan track. Or just Sanja's 2016 entry, Goodbye (Shelter). The music video is a whole other story…
🇳🇱 Vica K. – The song is very different from Loco Loco. It is calmer and I like that. The traditional part surprised me the most. This is a good song with a surprising effect.
🇫🇮 🇨🇴 Alvaro S. – I am not a fan of the girls' song in 2020 or in 2021. For me their songs are very messy and more about the looks of the girls and their dance moves than the music. So this song is a huge contrast. It is sexy but also more enjoyable that Hasta la Vista and the Loco Loco. And no unnecessary Spanish words.
🇨🇿 Josef S. – Folir'o is slightly different from their other songs, but Hurricane show that they can do also something else than only Balkan dance songs. It has more influences from folklore and focus is put more on the music, which I prefer. But on the other hand, I am pretty sure that this song would not succeed at Eurovision as Loco Loco did.
🇧🇦 🇷🇸 Miljan T. – I don't like all songs by the group, but I love this one. For one – I generally like minimalistic summer beats. Second – I like ethnic vibes in songs. And this is a mixture of both, which is not what you'd expect to exist or work, but it does. Sanja again goes above and beyond to show her cross-genre singing abilities, but it's not over the top. All in all — when the song comes up on my random stream, I don't skip it.
🇬🇧 Michael O. – More pouting from the Hurricane Girls on this reggae type laid back number, I'm quite fond of the Hurricanes, but I prefer their more upbeat songs.
🇧🇷 Amir B. – I love the song. Reminds me of a mix of Serbian music and reggaeton. This song is nice, I can't listen without dance. Hurricane brings that energy in every song, and I love this!
🇬🇷 Kostas C. – I am not a fan of this group. The only song that I liked, was their 2020 entry Hasta La Vista. Neither this year's entry, nor this song were songs that I would hear. Only the part where the girls appear with the flowers in their head is quite nice. But the rest, boring.
🇲🇹 Luke B. – Foliro'o by Hurricane is a song that would fit perfectly in the Spanish music market….only that it is sung in Serbian. It's a good song… I imagine drinking an Aperol Spritz or Gin and Tonic and listening to this song, it creates that kind of mood. Apart from that, the video is a typical Hurricane video, creating a…certain… appeal. I would not have imagined this song on the Eurovision stage as I think it suits more the radio than that, but this is not what we're judging here, and I would certainly download this song on my Playlist!
Enjoy Hurricane's Folir'o in the embedded video. Below the video, you can read more about them.
Hurricane – a mini biography
Hurricane is a girl band from Serbia consisting of Sanja Vučić ((born on the 8th of August 1993) , Ivana Nikolić (born on the 16th of April 1995), and Ksenija Knežević (born on the 24th of January 1996). The girls came together by Zoran Milinković, a former Serbian football player and manager in 2018. Sanja represented Serbia in 2016 in the Eurovision Song Contest with her song Goodbye (Shelter) and finished 18th with 115 points in the final. Ksenija is the daughter of Knez who represented Montenegro in 2015 (Ksenija was among her father's dancers).
Hurricane girls won the Serbian national final Beovizija in 2020 with their song Hasta La Vista. However, when the contest was cancelled due to pandemic, they couldn't make it to Rotterdam.
To the fans' and girls' amazement, they were internally selected to represent Serbia again for the 2021 edition of the Eurovision Song Contest in Rotterdam, and they prepared Loco Loco to sing in front of millions of Eurovision viewers. Eventually they passed their semi-final and became 15th with a total of 102 points in the final.
They have released many hit singles like Irma, Maria, Roll the Dice and Folir'o throughout their career together.