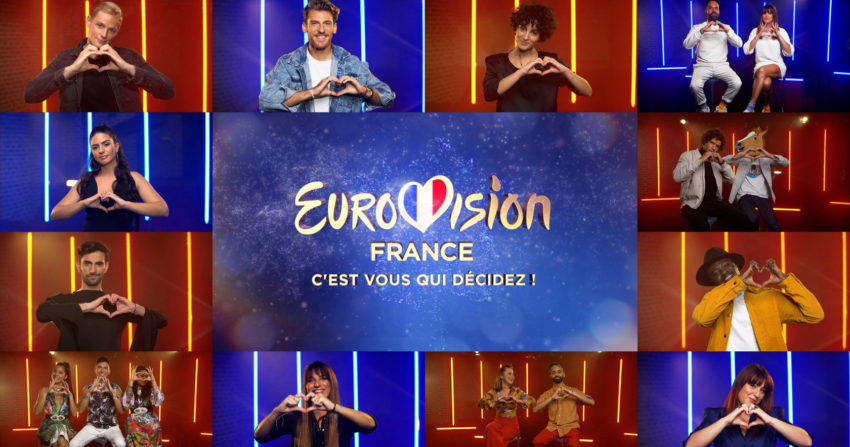 On this Saturday, France will choose their Eurovision representative. They have organised a national final, after having internally selected Tom Leeb last year. Here's a closer look at the 12 acts competing to represent France this year.
Eurovision France, c'est vous qui décidez will have two stages. In the first round of the final the public will decide their favourite seven acts from the candidates. An eighth act chosen by the votes of the jury will join them. The eight acts will compete in the Superfinal. For the superfinal a 50% jury vote and a 50% televote will decide who is the 2021 Eurovision representative for France.
Twelve acts are competing to represent France in Rotterdam. Below we will get to know more about them:
21 Juin le duo
Julien Guillemin and Manon Pêcheur together form 21 Juin Le Duo. They are a couple onstage as well as in daily life. They started singing together 4 years ago. The name of the duo comes after the date when Julien and Manon met for the first time. They will sing Peux-tu me dire?, a song about the environment. Julien and Manon along with Jan Orsi wrote the lyrics for their Eurovision song.
Ali
Ali is a Lebanese singer. He left his home country to pursue a career in music. He also works in the fashion industry. Actually, Ali chose the outfit he wears for his performance. Paris Me Dit, Yalla Ya Helo! is his song for Eurovision. In his song, Ali wants to tell his story of how he felt "Paris was calling him" and so he travelled to France to follow his professional dreams. Electro-pop band Hyphen Hyphen wrote the lyrics for Ali's song.
Amui
Amui is a Polynesian music trio. As such, Ken Carlter, Eva Ariitai and Vaheana Fernandez will sing their song in French and Tahitian, a Polynesian language. Amui means together or united. Ken wrote their Eurovision song with his wife wishing to cheer the audience up in these difficult time with a festive sound. That is how Maeva was composed. In 1981 Jean Gabilou, a Tahitian singer represented France in Eurovision. Will Amui repeat this achievement?
Andriamad
Together singers Cécile, who has Malagasy origins, and Kévin, who has Tunisian and Polish origins, form Andriamad. The duo will sing Alléuia, a song that celebrates diversity, tolerance and respect for each other. The duo performs wearing traditional dresses. They are planning to bring a colourful performance for the national final and hopefully to share their message in Rotterdam. Alléluia was composed by Andriamad.
Barbara Pravi
Barbara Pravi is a French singer and songwriter. She is no stranger to Eurovision. In fact, she co-wrote J'imagine, the French winner of the Junior Eurovision Song Contest 2020. After proving her credentials as a songwriter, Barbara Pravi wants to represent France in the main Eurovision Song Contest as a singer and composer. Barbara is a singer, composer and author. She will perform her ballad Voilà in the national final. The song is written by Barbara herself, Lili Poe and Igit.
Casanova
Casanova will sing in French and Corsican his song Tutti. He started his music career as part of a band. Later, he participated in The Voice France. In spite of not qualifying, after this experience he decided that he wanted to continue his music career. France has sent a song in Corsican to Eurovision twice so far: in 1993 with Patrick Fiori, and in 2011 with Amaury Vassili. Yoann Casanova wrote his song with Théo Grasset and Jérôme Brulant
Céphaz
Céphaz was born in Ghana. He was adopted by his French parents at age 9 and moved to South Africa. He arrived to France when he was 20. Céphaz wants to talk about overconsumption in his song On A Mangé Le Soleil. However, he also wants to bring folk together, and share his message with a song that makes people joyful. Antoine Essertier and Elise Rieslinger wrote his song.
Juliette Moraine
Juliette Moraine is a singer, a cello player and an actress. She hopes to represent France in Eurovision with Pourvu Qu'on M'aime. She is competing with a ballad. Juliette got some recognition after participating in The Voice in 2014. She has also taken part in a musical version of Romeo and Juliet and went on tour outside France. Pourvu Qu'on M'aime is written by Juliette Moraine herself and Rémi Portat.
LMK
LMK is the stage name for Eve-Line Lamarca. LMK wants to send a message to all females with her song Magique. Magique is a French, urban song with some lyrics in English. Her message for women in her song is simple: don't be afraid to show yourself to the world. LMK wants to combine her background as a conservatory student with the sounds of urban pop, Afro Caribbean and dance hall music. She is confident she is working with the right team. For instance, LMK worked in the production of Magique with a sound engineer in Los Angeles who has worked for Kendrick Lamar. High P and Eve-Line Lamarca herself wrote Magique.
Philippine
Philippine is singing Bah Non in the French national final. The singer is sending an empowering message to her audience: if you feel uncomfortable or vulnerable it is okay to say no. Philippine participated in season 6 of The Voice in France. Her song has a modern pop sound. Philippine wrote Bah Non together with Caméléon.
PONY X
PONY X are a music duo who are easily identifiable for the eye-catching pony mask of one of their members. The duo will perform their song Amour Fou in the national final. Pony X consists of Pony DJ and Clarence. Clarence is originally from Martinique. Before coming back to France, Clarence lived in Florida, USA where he studied gospel. He met Pony DJ and created their music project. In their song, written by Spoolman, SquirL and Clarence, Pony X want to bring electro music to Eurovision
Terence James
Terence James is a British singer. He wants to represent France with Je T'emmènerai Danser.  Terence James moved to France two years ago. He has lived with his girlfriend. He participated in The Voice France before. Notwithstanding that he is singing in French "with a subtle accent", Terence wanted to add a Celtic element in the production, a nod to his Scottish ancestry. His song is composed by himself and Ben Mazué.