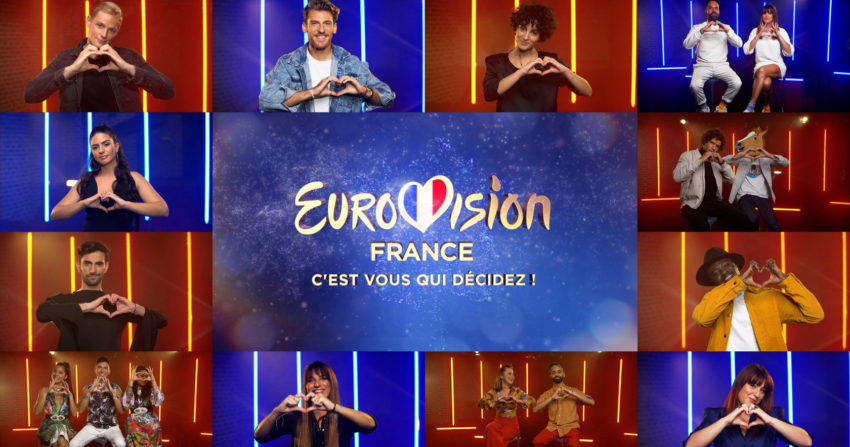 Twelve songs are competing to represent France at the 2021 Eurovision Song Contest. In this selection we have a variety of music genres and artistic styles but which ones stand out the most?
We will see 12 acts performing at France c'est vous qui décidez. The French broadcaster announced the twelve competing acts last December. The selection includes four groups or duos and eight solo acts. Although all the competing entries are sung in French, three of the songs include English and two of them will sing in Corsican and Tahitian.
Eurovision France, c'est vous qui décidez includes a variety of music genres and acts from different cultural backgrounds. A combination of televote and jury vote will decide the winner of the French national final. Duncan Laurence (2019 Eurovision winner) and previous French representatives such as Amir (2016), Marie Myriam (Eurovision winner 1977) and Natasha St-Pier (2001) are part of the jury.
Four Eurovision France, c'est vous qui décidez entries you should listen to
Ali – Paris Me Dit (yalla ya helo!)

Ali is a Lebanese singer. He left his home country to pursue a career in music. He also works in the fashion industry.  'Yalla ya helo' means 'come over handsome' in Lebanese. Further, this dance pop song with a catchy, repetitive chorus will most likely get stuck in many fans' heads. In addition to this, Ali's performance is very visual.
Barbara Pravi – Voilà
Barbara Pravi is a French singer and songwriter. She is no stranger to Eurovision. For instance, she co-wrote J'imagine, the French winner of the Junior Eurovision Song Contest 2020. Voilà is a heart-breaking ballad that will stand out for its very emotional style. A song with the remarkable chanson française style, Voilà gives a reminiscence to other French pearls such as 2009's Et S'il Fallait Le Faire.
Philippine – Bah non

Philippine Zadéo is a French singer. In 2019, she recorded, with Irish singer Gavin James, a new version of James hit Always. Bah Non is a modern, pop song that has the potential to become an instant summer hit. However, Bah Non is more than a radio-friendly tune. The lyrics have a powerful, uplifting message. Hence, Philippine wants to empower her audience to say no whenever they do not feel comfortable.
Andriamad – Alléluia
Last but definitely not least, the duo Andriamad could give us a huge surprise on the night of the final. Andriamad perform in traditional dresses. In addition to this, they see their duo as a project that embraces the different cultures that come together in France. This international appeal is present in Alléluia, a song that celebrates difference.
Eurovision France, c'est vous qui décidez – listen to all songs
For those who want to listen to all the songs, here's a list of the remaining 12 songs. You can watch all the contestant's songs by clicking the links on each title:
The winner of the 2021 Eurovision France, c'est vous qui décidez will represent France at the Eurovision Song Contest 2021 in Rotterdam, Netherlands.
This reflection article is based on the author's own personal experience. Views expressed belongs to him or her, and are to be seen as unrelated to EuroVisionary.com.