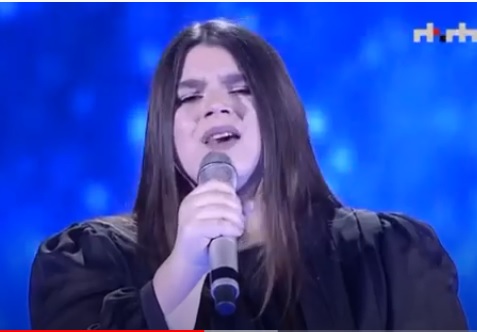 16 year old Sara Bajraktari participated in last year's Festivali i Këngës with her emotional power ballad 'Ajër'. She impressed with a great voice, but asking Eurovision fans about this song, it's clear that her time hasn't come yet.
The 58th edition of Festivali i Këngës,the traditional Albanian National Selection, took place with two semi-finals on the 19th and 20th of December 2019 and the grand final on the 22nd of December 2019 to select their participant for the 2020 edition of the Eurovision Song Contest.
Young Sara managed to make it to the grand final after her successful performance on the semi-final night.
On the grand final night, Sara Bajraktari managed to find herself a place at the top 3 along with Elvana Gjata (she was one of the hot favourites of the fans with her song Me Tana) and the winner Arilena Ara (with her song Shaj / Fall from the sky).
Ajër – opinions from fans
In order to find out what Eurovision fans today think of this song from the 2019 Albanian national final, we asked our Eurovision Fan Panel. It includes team members as well as fans from all over the world.
🇩🇰 Charlotte J. – If Albania had chosen this for Eurovision, and that the contest had been able to go ahead as usual, I am afraid I would have fallen asleep during this song. I do like her voice, and I can tell why some fans will like the song, but it's simply too boring for me. I am not a big fan of the song they picked instead, but at least I can listen to it without falling asleep. If Ajër was the best alternative, then I am not in doubt, they made the right choice in Albania.
🇹🇷 Gunec G. – Sara is a very young and talented lady. The thing I loved about Sara and Ajër was the way she performed the song. She was living it with all her soul. She could reflect all the emotion (at least to me). She has a magnificent voice. I'm sure she will improve herself even more as she is very young. The song itself was also such a beautiful and strong ballad. I really love such strong ballads.
🇬🇧 Aaron S. – While I still prefer Shaj/Fall From She Sky, Sara Bajraktari, has a fantastic voice for her age and will no doubt be a strong contender to represent Albania in the coming years at Eurovision. The song just felt a little too safe, and not very memorable but Sara has a great voice and I'm sure we can expect great things from her in the future.
🇨🇴 🇫🇮 Alvaro S. – When I think about the Albanian national selection this year, the first idea that comes to my mind is fan favourite Me Tana. Therefore, I was not expecting to review Ajër. In my opinion Ajër would have made a better choice for the country that has given us so many power ballads in recent years. It sounds honest and emotional without having to SCREAM to the audience ears – a problem that it is not unique to Arilena Ara I have to say. Sara Bajraktari performance on the other hand, sounds peaceful and sad, just with her tone and expressions without overreacting. It was a beautiful performance.
🇬🇧 Michael O. – I believe this was Sara's first attempt in a big competition and with her powerful voice she sold the song really well. Again a little too niche to do really well at Eurovision, but I'm sure Sara will be back, even better.
🇩🇰 Alberte B. –  Classic Eurovision ballad. She sings it very beautifully though. However, Fall From The Sky will always hold a special place in my heart, so I think the right song won.
🇬🇧 Mhairi O. – I like Ajër enough, however it doesn't go anywhere for me. I feel I can't appreciate songs in Albanian until I hear them in English to prove how much better the native language is. However for me and I believe many others there was a better song with Me Tana this year but Sara does have a very good voice, hopefully she will try again.
🇦🇺 Craig M. – My top 2 in Festivali Kengis in 2020 were 1. Bojken Lako with Malaseen and 2. Elvana Gjata Me Tana. I still listen to these 2 songs all the time. Sara Bajraktari with Äjer was not a song that stood out to me. Sure, her voice was good, but the song was not for me. .. Now I am off to listen to Malaseen 🙂
🇪🇸 Alexander S. – In 2020 Sara competed in FIK and she placed third. She sang a nice ballad, moreover, she has got a very beautiful voice and this made the performance very special. However, in my view the song may have resulted a bit boring and added nothing new to the contest.
🇬🇧 Ashleigh K. – This is a tough one because having listened to both of the songs, I like them equally. They are quite similar to my ear and they were both performed with amazing vocals. I really can't decide.
Enjoy Sara Bajraktari's performance from the 2019 Festivali i Këngës in the embedded video. Below the video, you can read more about her.
Sara Bajraktari – a mini biography:
16 year old talent Sara Bajraktari started singing at the age of 7 as she went to her very first audition.
She started participating in many local festivals ever since. She participated at The Voice Kids in Albania in 2018 with Aleksandër & Renis Gjoka as coaches. Unfortunately she didn't reach the final.
Some consider her breakthrough to at the 58th edition of Festivali i Këngës where she did make it to the final and placed third.